Before cow slaughter ban debate, Kerala Assembly feasts on beef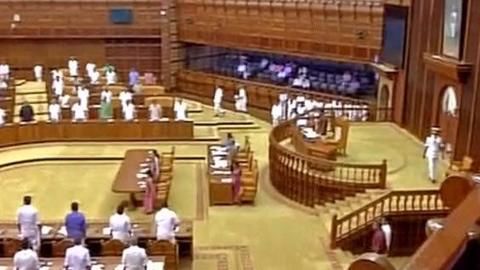 Kerala, continuing its protest against the Centre's cow slaughter ban, came up with an innovative mode of objection: a special assembly session began with a sumptuous breakfast which had many delicacies, including beef fry.
It later passed a resolution against the notification on cattle sale regulation, terming it "anti-people".
The only legislator who didn't support it was O Rajagopal, the sole BJP legislator.
In context
Eating beef to protest cow slaughter ban
Arguments
'New law would take away jobs, make farmers suffer'
CM Vijayan claimed the new law would render almost five lakh people jobless. A farmer will be forced to spend huge amounts to maintain cows that have stopped giving milk.
Former CM VS Achuthanandan said focus should instead be on producing "value added beef, through which we can earn precious export earnings".
He batted for Kerala's own new law to circumvent it.
Food
Kerala eating beef to protest cow slaughter ban
Normally, the assembly canteen serves beef after 11am, "but today, we brought 10kg of beef in the morning," said a worker.
However, this isn't the first time food is being used to protest the beef slaughter ban. "Beef fests" have been organized across Kerala and Tamil Nadu after the notification.
Vijayan earlier wrote to PM Narendra Modi, calling for revoking the order.
Love Politics news?
Stay updated with the latest happenings.
Notify Me
Can Kerala actually circumvent the new law?
Kerala, the first state to oppose the new law, is planning an all-CMs meet to discuss the regulation. However, a unanimous resolution against the law is almost impossible, considering there's one BJP legislator in the 150-member assembly.