Cabinet meeting in Darjeeling marred by violence by Gorkhaland protesters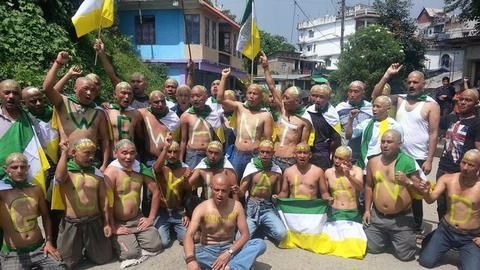 Even as West Bengal held its first cabinet meeting in Darjeeling in almost 45 years on June 8, bombs went off 200m away from the Raj Bhavan.
Inside, CM Mamata Banerjee was announcing developmental projects for the hill-town. Outside, thousands of people, including tourists, were chaotically running for cover.
Members of Gorkha Janmukti Morcha meanwhile set ablaze a bus and 12 police vehicles.
In context
Unrest in Darjeeling after GJM unleashes violent protests
Chaos
Tourist spot turns into war zone
GJM supporters marched to the Gorkha Rang Mancha Bhavan on Mall Road, shouting slogans against the government's "bid to impose Bengali on Hills people".
"Mamata Banerjee does what she wants, I will too," said GJM chief Bimal Gurung. In the meantime, the army was called in as people ran helter-skelter.
The GJM Yuva Morcha had earlier called for a 12-hour bandh on June 9.
Factor
What triggered the violence?
The unrest comes after the government recently mandated teaching of Bengali in schools till Class X. However, it soon made a U-turn anticipating backlash from the Nepali-speaking Gorkhas, saying those in the hills do not have to teach Bengali if they don't want to.
Gurung has demanded the bill, which exempted schools in the hill districts, is passed in the assembly soon.
Love Politics news?
Stay updated with the latest happenings.
Notify Me
Amid violence, Banerjee reiterates commitment to people's welfare
Most cabinet members left for Siliguri by Thursday end, but Banerjee stayed back at the Raj Bhavan, saying she would remain till the "last tourist left". "I held a cabinet meeting here to take up development projects for the Hills. I have nothing against them."
11 Jun 2017
GJM calls for month-long shutdown in Darjeeling Hills
After violent protests, the GJM has called for a month-long shutdown in Darjeeling starting June 12.
It said government offices would remain closed and banks will function limitedly, but educational institutions, transport and emergency services would be exempt.
The call for 'non-cooperation' with the government and fresh demands for Gorkhaland came after CM Mamata Banerjee ruled out compromise with elements using "bombs and stones".
12 Jun 2017
Darjeeling bandh- Ten people detained over arson attempt
Ten people have been detained over arson in restive Darjeeling, where a month-long strike called by the GJM started today.
The town wore a deserted look: vehicles remained off the roads and hotels stayed shut. Police barricades had been put up, and army teams were available as "backup".
However, the government has warned its employees to attend office. Educational institutes have been exempted.