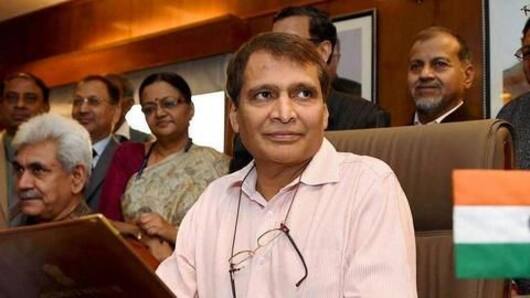 Railways to build Rs. 8cr high-tech train for next President
While India is yet to decide on its next President, looks like the Railway Ministry is already busy with preparations for Pranab Mukherjee's successor.
The Ministry is currently planning a new railway saloon worth Rs. 8cr for the winning Presidential candidate.
The state transporter will also seek the new President's approval in July.
Know more about Presidential railway saloon!
What is the Presidential saloon?
Credits:
The Presidential railway saloon is a pair of twin coaches for the President of India to move around in.
Built in 1956, they have a visiting-cum-dining room, conference-cum-lounge room, President's bedroom, kitchen, and chambers for military secretaries, doctors, and staff.
Previous Presidents traveled in these coaches 87 times with Dr. Abdul Kalam's 2006 journey being the last; the carriages were later declared unsafe.
Funds sanctioned in 2007-08
In the 2007-08 Railway budget, Rs. 6 crore funds were sanctioned for manufacturing a new Presidential saloon. However, in 2008, President Pranab Mukherjee's Secretariat rejected the plan, citing security concerns and also possible disruption of passenger traffic.
Love Politics news?
Stay updated with the latest happenings.
Yes, notify Me
Proposed saloon offers protection, comfort, and connectivity
The proposed Rs. 8cr railway saloon would be built on the German LHB design coach platform.
It will have plasma TVs, GPS and GPRS systems, Immersat satellite antennas, 20-line telephone exchange, modular kitchen, a public address system, and bulletproof windows.
Northern Railways' Chief Mechanical Engineer Arun Arora said the Railways will build the saloon if the new President desires.
Railways inventory has four different saloons
Credits:
Indian Railways has 62 AC and 222 non-AC saloons for broad gauge tracks and two AC and 24 non-AC saloons for meter gauge tracks.
As they are rarely used, their maintenance cost is marginal.
They can be used as inspection coaches to reach accident sites and remote areas.
Separate saloons are also maintained for the Ministers and senior officials of Railways.
Railway Minister and Ministers of State also use saloons
Responding to an RTI query filed by activist Subhash Agrawal, the Railways said Railway Minister and Ministers of State traveled 162 times in five years, up to Sep'16.
While Railway Minister Suresh Prabhu traveled only 25 times in the saloon, Minister of State Manoj Sinha, with 40 journeys, traveled the most.
Former Railway Minister Mallikarjuna Kharge undertook only 32 journeys.
Saloon facility must be abolished: Subhash Agrawal
Activist Agrawal said the saloon facility is no longer relevant in modern India. He added: "The Railways are unnecessarily shouldering a colonial burden. The saloon facility must be abolished."