Controversy: Union Minister Radha Mohan Singh seen urinating in public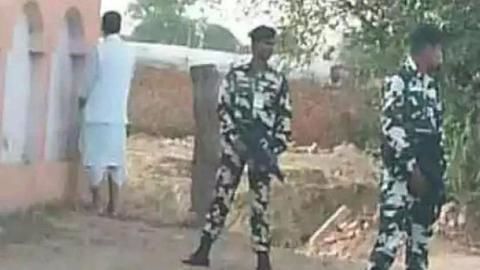 The BJP has landed in a controversy after a picture of Agriculture Minister Radha Mohan Singh urinating in public went viral.
Singh is seen urinating on a wall purportedly in East Champaran (Bihar) as securitymen stood guard.
Even RJD's Twitter account shared it: "The minister gives the Swachh Bharat Abhiyan a boost, as he inaugurates an irrigation project in a drought-affected state."
In context
BJP's 'public sanitation' controversy
Defence
Singh defends himself, BJP backs him up
Singh said there were no urinals for long distances on NH28 near Pipara. The photograph was of a dhaba, he claimed.
Bihar BJP spokesperson Rajib Ranjan said there's "absolutely nothing wrong" in it. "What do you do if you are travelling and there are no urinals on the way?"
He also claimed the photo is "six months to one year old".
Reax
No dearth of jokes on Twitter
Meanwhile, there was no dearth of reactions on Twitter. "Once @PMOIndia asked to devote 100 hours every year towards the cause of cleanliness. @RadhamohanBJP is devoting more it seems," tweeted @IamGeorgy.
Many others called for Singh's removal.
Some focused on the problem: "Would be easy to blame @RadhamohanBJP. But this shows how badly lacking are our sanitation facilities.@narendramodi will have to act," posted @bimalpandia.