Politics
Reply against corruption charges or bear consequences: JD(U) to Tejashwi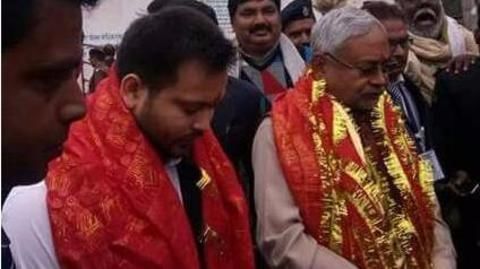 The stand-off between Nitish Kumar and Lalu Prasad further intensified on Saturday with JD(U) leaders asking Tejashwi to furnish details against corruption charges or bear the consequences.
JD(U) made it clear that Nitish Kumar's stand on corruption is clear and there would be no compromise on that.
JD(U) also attacked Lalu saying he shouldn't be evasive about the charges and rather reply to them.
In context:
CBI raids on Lalu: Coincidence or BJP strategy?
10 Jul 2017

CBI raids on Lalu: Is this the end of 'Mahagathbandhan'?
The future of Bihar's Grand Alliance became more uncertain after CM Nitish Kumar who has so far not commented on the CBI investigation on Lalu Prasad Yadav, postponed a public event.
While an official statement suggested that the cancellation was due to the CM's bad health, speculations indicate that the raids were part of BJP's scheme to create a big crack in the alliance.
About

What is the Bihar grand alliance?
The Grand Alliance was formed ahead of the 2015 Bihar selections with the Janata Parivar Group consisting of six parties including the Samajwadi Party, Janata Dal (United), Samajwadi Janata Party (Rashtriya), Rashtriya Janata Dal, and Janata Dal (Secular).
Indian National and Nationalist Congress parties later joined the fold.
The alliance was rechristened 'Mahagathbandhan' after four parties including JD (Secular) and SP left the alliance.
Background

What has happened so far?
The Central Bureau of Investigation (CBI) raided premises belonging to Lalu Prasad Yadav, his wife Rabri Devi and son Tejashwi Yadav, pointing to corruption charges during his term as railway minister in 2006.
The Enforcement Directorate further raided three farm houses belonging to Lalu's daughter Misa Bharti in Delhi's Ghitorni, Bijwasan and Sainik farmhouses.
Lalu accused the BJP of launching a 'witch-hunt' against him.
CBI Raids: Coincidence or political strategy?

Lalu is the glue that holds NDA opposition together. Speaking on Wednesday he hinted towards a strong possibility of SP and BSP joining in and renewed the call for opposition unity. The CBI raids against Lalu were initiated on Friday. Was this a mere coincidence?
10 Jul 2017

Tejashwi Yadav won't resign as Bihar's deputy CM: RJD
With the corruption charges against Lalu Prasad Yadav and his family refusing to die down, the Rashtriya Janata Dal came out openly with the fact that Bihar's Deputy Chief Minister Tejashwi Yadav would not step down.
The decision came after RJD held a meeting in Patna.
RJD also slammed BJP for attempting to break the grand alliance in Bihar.
RJD's reply

Tejashwi will respond to charges during RJD's rally
Reacting to JD(U)'s stand over Tejashwi, RJD made it clear that it won't be answering to Nitish Kumar any time soon.
Meanwhile, RJD still claimed that it was BJP's conspiracy to break-off the coalition.
RJD further said that Tejashwi would respond to the charges only at the RJD rally scheduled for August 27.
15 Jul 2017

Lalu's son misses an event, points towards Grand Alliance rift
In yet another visible manifestation of the increasing estrangement between JD(U) and RJD, the Bihar deputy CM Tejashwi Yadav skipped an event attended by Nitish Kumar.
Tejashwi, Lalu Prasad Yadav's younger son, was expected in Patna for the first-anniversary event of 'Vishwa Yuva Kaushal Divas'.
The plate bearing his name was wrapped up and later taken off the table before the event's inauguration.
16 Jul 2017

Reply against corruption charges or bear consequences: JD(U) to Tejashwi
JD(U) leaders speak

JD(U) leaders advise Lalu to stand by 'Mahagatbandhan'
JD(U) general secretary Shyam Rajak said that Lalu should not dodge the questions about corruption charges against him and his family members.
Another leader and party spokesperson Sanjay Singh asked Lalu to stand with the 'Mahagatbandhan' to combat against the ongoing turmoil.
Meanwhile, sparking yet another debate, Tejashwi skipped an official World Youth Skills Day function of the government chaired by Nitish on Saturday.