PM Modi to meet state chief secretaries to push development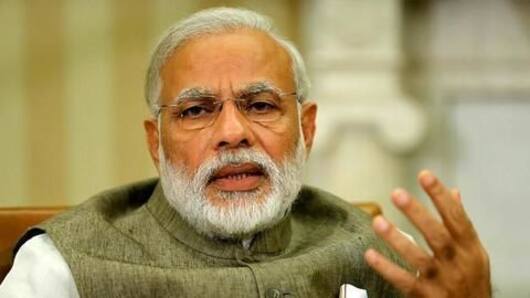 Keeping in view the 2019 general elections, PM Modi will be holding a day-long meeting with the state chief secretaries, to push for development agenda in all the states.
The meeting which has been organized by the NITI Aayog will look at weeding out disparities.
An official said, "The meeting is to ensure better centre-state coordination on development projects."
In context
Modi to meet state chief-secretaries to push development
Scrutinization
Issues to be discussed by PM Modi
PM Modi will be discussing issues regarding cashless economy, direct cash benefit transfers, agriculture and health, plans for better Olympic showing and promotion of electric vehicles.
Also, a number of developmental indicators which have been developed by NITI Aayog in areas of health, education, water management and digital transformation will be discussed to measure every state's performance.
Farm sector distress
In-depth discussion on farm sector
The meeting will closely look at the farm sector distress.
Issues revolving around agrarian crisis in Madhya Pradesh and Maharashtra will also be taken up for discussion.
Also, suggestions on the 3-15 year development blueprint prepared by the NITI Aayog will be analyzed.
Love Politics news?
Stay updated with the latest happenings.
Notify Me
Aim
Objective of the meeting
The meeting which will be attended by finance secretaries and planning secretaries of all states will aim at removing regional imbalances and disproportions.
The ultimate goal behind the meeting is to identify the problematic areas in the system and find ways to ensure all-round development of states by taking a measured approach.
Presentations
States to list out best practices
To explain certain issues which could be handled in a better manner, few states would list out their best practices in the meeting. For instance, Andhra Pradesh will give a detailed presentation on online management of outcome-based public finance systems.
Meanwhile, Rajasthan will talk about about the electronically-managed PDS system.
Similarly, Bihar will raise the positive outcomes of cash payments under a nutrition programme.
Conclusion
Officials to highlight states' financial health
NITI Aayog's member Bibek Debroy will give a presentation on the financial position of the states during the course of meeting.
Chairman of the Quality Council of India, Adil Zainlubhai too will talk about the online monitoring of public finances so as to help states ensure deliverable financial goals.