Politics
VVPATs: Paper trail counting may delay poll results by 3hrs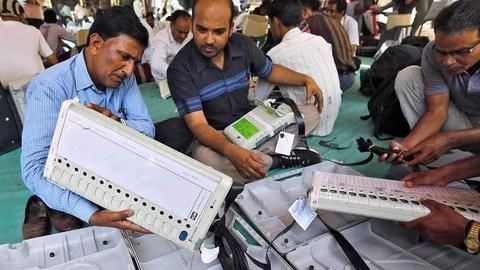 As the Election Commission prepares for the rollout of VVPATs for elections across India, challenges posed by the process are coming to the fore.
One of the primary ones is delays of three hours or more due to mandatory counting of paper slips in some polling stations.
In this case, initial trends may be delayed to 11am. As of now, trends emerge by 9am.
In context:
Problems likely due to paper trail VVPATs
VVPAT-EVM

What is a paper trail-based EVM?
Following controversy on EVM tampering, the EC declared in May that all elections hereon would be conducted through VVPAT.
Using the VVPAT, a voter will be able to ensure his/her vote goes to the candidate of his/her choice. A paper slip is immediately printed with details of the vote.
The EC will tally these slips with the results of EVMs in some polling stations.
10 Jul 2017

VVPATs: Paper trail counting may delay poll results by 3hrs
Love Politics news?


Stay updated with the latest happenings.
Challenges

Delay in results may pose other problems too
This can present other problems, like tension between supporters of different parties who generally gather at counting centres.
An internal EC committee is examining when the counting of paper trail should be scheduled. It is considering making paper trail verification mandatory in 4-5% of stations in each constituency.
The body is likely to release guidelines soon, including on how to choose the polling stations.
AAP had batted for paper trail counting at 25% stations

AAP, which led protests against EVMs, wanted paper trail counting at 25% of polling stations in each constituency. However, it would be impractical "as it would delay counting and declaration of results by as much as 26 hours", an official official.