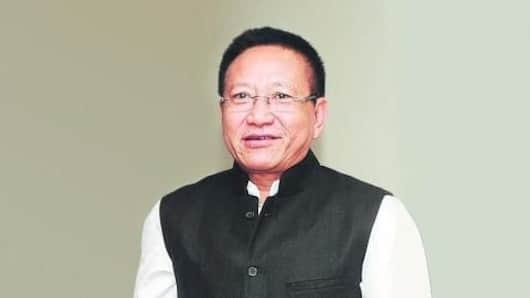 Nagaland crisis deepens: Zeliang approaches the governor to form government
Nagaland spiralled into political chaos recently after former CM T R Zeliang approached the Governor P B Acharya to form a government.
While Zeliang claimed to have the backing of 41 out of 59 MLAs incumbent CM Shurhozelie Liezietsu sacked four cabinet ministers and ten chief secretaries in response.
Liezietsu was to contest from the North Angami-I seat in the upcoming by-elections.
Who got fired?
Ministers dropped from Liezietsu's cabinet include: Home Minister Y Patton, lmkong L lmchen, environment and forests minister, G Kaito Aye, political affairs and highways minister and C Kipili Sangtam, power minister.
What context is this happening in?
Zeliang had resigned on February 22 after state-wide protests over implementing a 33% reservation for women in the urban local body polls, after which Liezietsu, a non-elected member was appointed to the CM post.
Liezietsu was set to contest for by-elections scheduled for July 24 from the North Angami-I seat recently vacated by his son Khriehu Liezietsu.
Love Politics news?
Stay updated with the latest happenings.
Yes, notify me
What transpired?
Zeliang asked the Governor in a letter to invite him to form the government, along with a statement signed by 41 MLAs demanding Liezietsu's resignation.
The letter further said, the decision to back Zeliang was made by 37 MLAs at a Naga People's Front meeting last month.
In a statement, Leizietsu noted that the rebellion was affecting the normal functioning of the government.
Where do the MLAs currently stand?
Out of total 60 seats, Zeliang currently enjoys the support of 34 NPF MLAs and 7 independents. 11 each were further reported to have joined hands with Zeliang and former CM Neiphiu Rio respectively. The rest of the house is currently neutral.
Uncertainty looms over Nagaland
Nagaland is not new to political crises. This is the fourth time that MLAs in the NPF-led Democratic Alliance of Nagaland have tried to remove a CM.
Constant proclivity to defection and lack of power centralization in general make any outcome possible.
Moreover, there currently is no indication of the governor's decision and Liezietsu's supporters have resolved to hold the upcoming by-elections.