Politics
UP budget leaves out Taj Mahal from 'cultural heritage' plans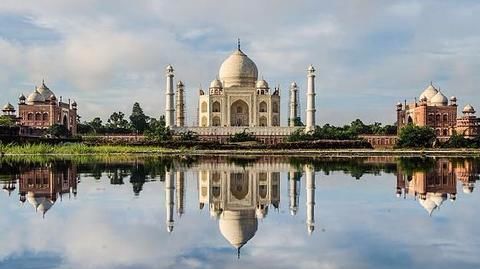 The UP government has come under fire from academicians after it failed to include the Taj Mahal in its budgetary plans for the state's cultural heritage.
The 'Hamari Sanskritik Virasat' (Our Cultural Heritage) section in the finance minister's 63-page speech included sites in the holy Hindu towns of Ayodhya, Mathura and Varanasi, but not the Taj, one of the seven wonders of the world.
In context:
The Taj Mahal under Yogi Adityanath's rule
CM

Yogi Adityanath isn't a fan of the Taj
CM Adityanath hasn't refrained from making his views on the Taj clear. In 2014, he triggered a controversy when he claimed it had been built on a Shiv Temple.
Last month, he lauded PM Narendra Modi for gifting copies of Gita to foreign dignitaries. "(Dignitaries) used to be gifted replicas of Taj Mahal and other minarets which did not reflect Indian culture," he said.
12 Jul 2017

UP budget leaves out Taj Mahal from 'cultural heritage' plans
Love Politics news?


Stay updated with the latest happenings.
Budget

Budget focused on Hindu holy towns of Ayodhya, Varanasi, Mathura
While announcing the 2017-18 budget, Finance Minister Rajesh Agarwal invoked Lord Ram in the assembly.
Rs. 1,240cr was reserved for the 'Swadesh Darshan Yojana' which will focus on the Ramayana Circuit (Ayodhya), Krishna Circuit (Mathura) and Buddhist Circuit (Varanasi).
Yet another scheme was announced for infrastructure development in these three towns.
Rs. 200cr was earmarked for a cultural centre at Varanasi.
Reax

Academicians and historians not pleased
This sparked criticism from academicians and historians. "The identification of heritage with Hindu identity is in complete contradiction with UP's 'Sanjhi Virasat' (Shared Heritage)," said Athar Siddiqui of the Centre for Objective Research and Development.
"There is no room for appeasement for people of one religion and complete disregard for others," said Professor Rajesh Mishra of Lucknow University.
But the Taj is too important to be ignored

The monument of international fame earns the government crores in revenue. Plus, "if tourism in Agra grows, circuit cities like Mathura would grow automatically," says Rajeev Saxena, secretary, Tourism Guild of Agra. "No government can ignore (the Taj)," says Sohan Lal Yadav, BHU professor.