PM Modi warns cow vigilantes, asks state-governments for strict action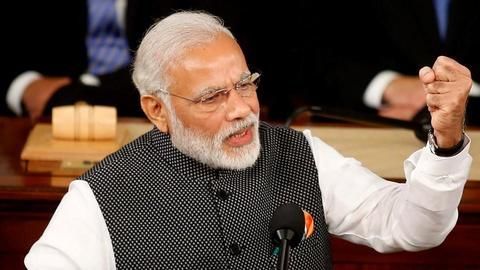 Sending out a strong message to cow vigilantes, PM Modi said that violence in the name of cow protection would not be tolerated.
Ahead of Parliament's monsoon session, the PM held an all-party meeting and told MPs to act strictly against those committing violence in the name of cows.
He said that law and order is the state subject and shouldn't be played with.
In context
PM Modi warns Gau bhakts of stringent action
Context
People shouldn't take law in their own hands: PM Modi
With the opposition parties attacking BJP over cases of cow vigilantism, PM Modi took a day before the Parliament session to address the grave issue.
The PM said he understood many Hindus believed cow to be their mother but this sentiment shouldn't let people take law in their own hands.
He also said cow protection laws were in place.
Concrete action?
Will PM Modi's stand on cow vigilantes bring changes?
The PM's late reaction to a grave issue such as lynchings and mob violence in the name of cow protection raises questions if Modi's reaction to the above is true or just empty noise.
To prove the opposition wrong, PM Modi must take action rather than just mere talks; a survey too showed that 97% of cow-related violence have taken place in BJP's regime.
Love Politics news?
Stay updated with the latest happenings.
Notify Me
Conclusion
Gau Bhakti doesn't give the licence to kill: PM Modi
This is not the first time when Modi took a stand on cow vigilantes. Last month, Modi, in a speech at Sabarmati Ashram, had said that killing in the name of cow is unacceptable.
Meanwhile, looking at the recent string of cases, the violence has not subsided. The Maharashtra Police recently confirmed that Nagpur man was thrashed as he was carrying beef.
The holy cow
Meanwhile, RSS members research on benefits of cow urine, dung
Even as PM Modi was earlier seen asking state governments to take stringent action against cow vigilantes, the RSS, VHP members in government panel are researching benefits of cow urine and dung.
The government has also started a project which stands for Scientific Validation and Research on Panchagavya, a part of which will look into advantages of cows.