Bihar: As Nitish Kumar woos BJP, trouble foments within JD(U)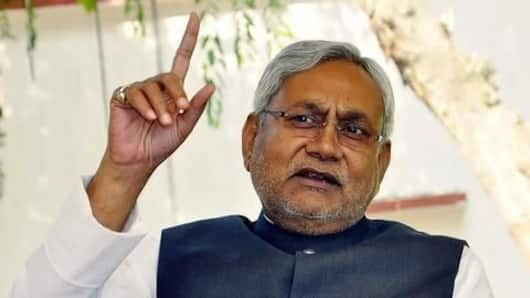 Bihar CM Nitish Kumar's growing closeness with BJP seems to have formed splits in not only the Mahagathbandhan, but also in his own party.
Reportedly, members are now considering charting their own course.
A senior leader has even predicted there's possibility of the party eventually splitting. "There is little likelihood that party workers will support Kumar if he mends ties with the saffron party."
In context
Bihar politics: Will Nitish Kumar lose JD(U) support?
Trouble
JD(U)-RJD relations under strain as Nitish inches closer to BJP
Trouble has been brewing in JD(U) amid CBI raids at Deputy CM Tejashwi Prasad Yadav's house over alleged corruption. Tejashwi is RJD chief Lalu Prasad's son.
If Kumar sacks him, it would strain JD(U)'s ties with the state assembly's largest party.
Going against the Mahagathbandhan, Kumar also supported BJP's presidential candidate.
BJP has promised outside support to JD(U) if it separates from RJD.
Objection
But party leaders unhappy with developments
Party members haven't taken lightly to the developments. Reportedly, six of 12 JD(U) MPs in Parliament don't want a tie-up with BJP.
JD(U)'s lone MP from Kerala Veerendra Kumar also defied Nitish's guidelines to vote for BJP's presidential candidate.
Influential party leaders including Sharad Yadav and legislators like Sarfaraz Alam and Naushad Alam are unlikely to continue supporting Kumar if he switches sides.
Love Politics news?
Stay updated with the latest happenings.
Notify Me
Options
So what are Nitish Kumar's options?
Kumar can choose to split from the Mahagathbandhan and tie-up with the BJP. But in this case, it is unlikely that his own party members will continue to support him.
Or he can go the other way and mend strained ties with the RJD to keep the Grand Alliance strong.
Whatever be the case, his next move can completely overhaul the state's political scenario.