Politics
Rashtrapati Bhawan, undergoing a metamorphosis?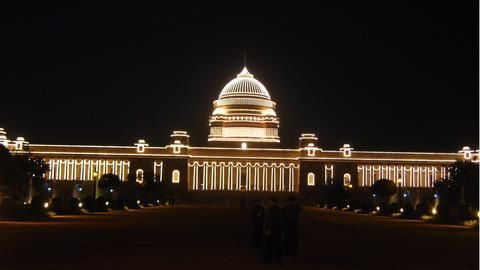 With the results of the Presidential elections unfolding today, we take a look at Rashtrapati Bhawan which is the official home to the President of the largest democracy.
The building was designed by British architect Sir Edwin Lutyens and was inaugurated in 1931.
Covering an area of 330-acres, the magnificent structure has 340 rooms, 227 columns, 35 loggias and 37 fountains.
In context:
A close look at the Rashtrapati Bhawan
Rashtrapati Bhawan: The mammoth edifice, one of its kind

The official residence of the President of India is one of the largest buildings of its kind. It was designed to be the home of the Viceroys of India, took 17 years to be completed and the construction cost was about Rs. 12.8 million.
20 Jul 2017

Rashtrapati Bhawan, undergoing a metamorphosis?
Love Politics news?


Stay updated with the latest happenings.
Outstanding features

Rashtrapati Bhawan's standalone attributes
Let's take a close look at the intricate attributes of Rashtrapati Bhawan.
The verandas of the majestic building are simple yet imposing and the white marble, sandstone floors featuring geometric and floral inlays are ornate.
Atop the Jaipur Column sits the Star of India.
Another, impressive feature is the Ashoka Hall with its vaulted ceilings and the hand painted golden archways.
Panoramic view

Architectural wonders surrounding the President House
Fore court, Jaipur column: There are three main entrances to the Fore court of Rashtrapati Bhavan which is flanked by the President's and Cabinet Secretariats and Jaipur Column.
Marble Hall: It displays rare portraits of the Viceroys and British Royalty.
Kitchen Museum and Children's Gallery: Both of these are architectural facets.
Durbar Hall, Mughal Garden: These are another architectural marvels of the Rashtrapati Bhawan.
A legacy

Made by British, this monument is India-inspired
Built by 23,000 labourers, the Rashtrapati Bhawan designed by Lutyens borrowed many aspects of Mughal architecture. The trelliswork, the jaalis in the Diwan-i-Am of the Red Fort of Shahjahanabad.
Lutyens even drew inspiration from Pantheon in Rome and Sanchi Stupa in MP.
Also, the dome is of much significance as it's the heart of Rashtrapati Bhavan, overlooking Delhi from Raisina Hill.
Interesting facts

Some lesser-known facts about Rashtrapati Bhawan
Rashtrapati Bhawan, is the second largest in the world after the Quirinal Palace in Rome.
It was known as the Viceroy House in 1950. The first occupant of this mansion was Lord Irwin.
No steel has been used in its construction.
It has more than 54 bedrooms altogether, along with additional accommodation for guests.