Politics
Irani says 'thank you' to Rahul; Indira more-likely Hitler inspired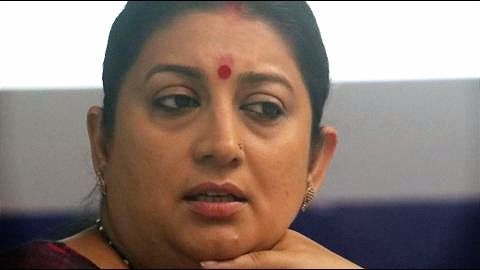 Replying to Rahul Gandhi's tweet where he likened PM Modi to Hitler, Union minister Smriti Irani said 'thank you'.
Rahul had said that like the Nazi dictator, Modi was trying to "strangulate reality".
Smriti sharply asked Rahul Gandhi to recall that it was the Congress party's Indira Gandhi who had inflicted Emergency upon India like Hitler who forced Nazism on Germany.
In context:
Rahul calls Modi Hitler, Irani says look inwards
22 Jul 2017

Rahul Gandhi says Modi trying to oppress India like Hitler
Rahul Gandhi launched a scathing attack on the Modi government and said that his regime was "mutilating" the Indian Constitution through "systematic capture".
He went on to liken him to Hitler who believed in a "very firm grasp on reality so you can strangle it at any time."
Inaugurating the 3-day BR Ambedkar International Conference, he said Modi wants India to "surrender its voice."
Back in 2014 too Rahul had compared Modi to Hitler

In 2014 too, Rahul Gandhi had said: "Hitler...thought people had no wisdom and there was no need to listen to them. He thought he had all the knowledge himself. Similarly, there is a leader today...who says 'I have done this, I have done that'".
Love Politics news?


Stay updated with the latest happenings.
More attacks

Gandhi brings up Rohit Vemula suicide, lynchings and farmer suicides
Furthering his attacks, Gandhi said Rohit Vermula was murdered and was not a casualty of suicide.
He said that the present regime was practising a systematic capture to appease RSS where a man was lynched for carrying beef.
He also attacked Modi for writing-off corporate debts when farmers were debt-ridden.
Moreover, he said that demonetization had caused agony to farmers while Modi looked away.
22 Jul 2017

Irani says 'thank you' to Rahul; Indira more-likely Hitler inspired
War of words

Not the first time when Irani went after Rahul
Union minister Smriti Irani had attacked Rahul Gandhi when he had blamed Modi for the Amarnath attack.
Rahul had said that Modi had "created space for terrorists in Kashmir" for "short term political gain".
Condemning Rahul, Irani said that the history was evident that the challenges in Kashmir are given out to country courtesy the Nehru-Gandhi family.