Pranab Mukherjee: Glimpses of an eventful life in politics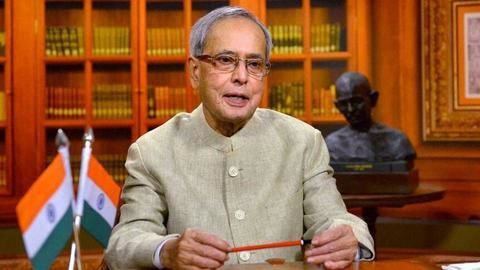 As India is investing tonnes of hope in its new President Ram Nath Kovind, Pranab Mukherjee said goodbye to the Rashtrapati Bhavan, concluding another eventful chapter in his political career.
An able politician, Mukherjee's stint as President would be remembered fondly by many, for the manner in which he navigated through murky political waters, staying true to the letter and spirit of Presidency.
In context
All about Pranab Mukherjee's life in politics!
About
Early life
Mukherjee was born on 11 December, 1935 in Mirati in the Birbhum district in West Bengal to Rajlakshmi and Shri Kamada Kinkar Mukherjee who were actively involved in the freedom movement.
Finishing his education in political science and law from the University of Calcutta, Mukherjee tried various professions including teaching and later worked as a journalist with 'Desher Dak', prior to entering politics.
Details
Beginnings of a political superstar
Mukherjee's talent was noticed by Congress leadership after he successfully managed VK Krishna Menon's campaign from the Midnapore by-election in 1969.
He later went on to become a close aide of Indira Gandhi. He was a part of Mrs. Gandhi's Cabinet and remained active through the emergency (1975-77).
A testimony to his prowess, he emerged unscathed in the post-emergency era becoming Finance Minister (1982-84).
Love Politics news?
Stay updated with the latest happenings.
Notify Me
On the relationship with Mrs. Gandhi
Commenting on the duo's dynamics, Jayanta Ghoshal, a journalist and Mukherjee's friend notes, "even Mrs Gandhi would say, 'No matter how hard one tries, they can never get a word out of Pranab. All they will see is the smoke coming out of his pipe',"
Positions held
A star-studded political career
Mukherjee's first major political appointment was as the Union Deputy Minister for Industrial Development in Indira Gandhi's cabinet.
He later served as Finance Minister (1982-84), commerce minister (1993-1995), as external affairs minister (1995-96) and as defence minister in the Manmohan Singh government (2004-2006).
He was also appointed as leader of Rajya Sabha in 1980 and in Lok Sabha in 2004 and later in 2009.
Political mentoring
In the Congress Party
Widely viewed as a Gandhi family loyalist, Mukherjee has held top positions within the All India Congress Committee.
Expelled from the Party during Rajiv Gandhi's Prime Minister-ship, he formed the Rashtriya Samajwadi Congress in 1986, and later came back strongly under the Narasimha Rao government.
He is believed to have facilitated Sonia Gandhi's entry into the Party and is still a mentor to her.
Presidency
In the Rashtrapati Bhavan
Mukherjee is credited with bringing the Rashtrapati Bhavan closer to the pubic by opening its gates and over 340 artifacts to public view.
His holistic vision on heritage is further believed to have given the Rashtrapati Bhavan a makeover through reviving dilapidated parts of the complex.
He has also rejected around 30 mercy petitions including those of 26/11 attacker Ajmal Kasab and Yakub Memon.
A President who loved pipes!
Although Mukherjee quit smoking a long time ago, he is said to have a collection of over 500 unique pipes including those gifted by foreign dignitaries. These will now be displayed at the Rashtrapati Bhavan museum!
Farewell address
Mukherjee's farewell message: Uphold the constitution
Addressing Parliamentarians at his farewell, Mukherjee conveyed that he has tried his best to follow the Indian Constitution, 'not just in letter, but in spirit' and added that the ordinance provision should only be used in compelling circumstances.
He further implored Parliamentarians to uphold the spirit of the Constitution as it represents the aspirations and hopes of millions of people.
Post retirement plans?
On being questioned on what his post-retirement plans at a conference, Mukherjee stated, "I would melt into the masses". He has also said that he would travel across India like a commoner.