We knew Nitish's move was planned months ago: Rahul Gandhi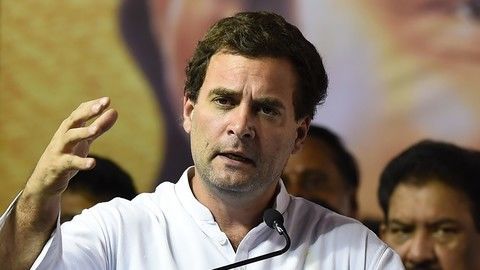 Nitish Kumar's decision to break away from the Mahagathbandhan and rejoin the BJP has shaken the other five allies.
Though the development has put the Congress in the lurch, apparently it wasn't completely unexpected.
"We knew it was being planned for three-four months," Congress vice-president Rahul Gandhi said.
Meanwhile, Nitish and BJP's Sushil Modi took oath as the CM and Deputy CM respectively.
In context
Congress left in the lurch after Nitish's breakaway
Reax
'Wasn't Nitish aware of Lalu and his family earlier?'
Rahul said mandate had been given to Nitish to fight against communalism, "but now he has joined hands with (BJP) for personal politics".
"Nitish's step is disappointing. Wasn't he aware about Lalu ji and his family?" tweeted Congress leader Digvijaya Singh.
The JD(U) chief claimed his decision came as former deputy CM Tejashwi Yadav had refused to explain the corruption charges against him.
Wednesday
The quick developments on the D-Day
Congress' allegations might just be true. On Wednesday, things moved fast: as Nitish resigned in Bihar, BJP held a parliamentary meet in Delhi and decided on a coalition government with the JD(U).
This came after months of BJP reiterating it would support Nitish if he broke away from the RJD.
Both parties played their cards right and scored a major win.