Parliament day 10: 'Stop murder of Constitution, democracy!'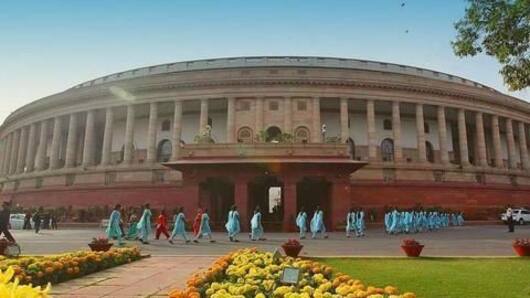 On Day 10 of the monsoon session of parliament, the House witnessed noisy protests by the opposition, who claimed the ruling BJP was misusing Gujarat Police.
Congress members shouted slogans urging the government to "Samvidhan, loktantra ki hatya band karo, band karo!" ("Stop murdering the Constitution and democracy").
The House was adjourned four times.
In context
Parliament: Cong accuses BJP of misusing state police
Gujarat
Kidnapping of Gujarat Congress leader
Congress leader Anand Sharma alleged that a Congress leader in Gujarat had been abducted. "(BJP) is in the habit of stealing MLAs, like in Goa and Manipur."
As protests erupted, Rajya Sabha deputy chairman PJ Kurien asked them to approach the EC, to which Sharma said, "If party leaders are going to be abducted by state police, EC should be directed by the Chair."
Pakistan
'Onus on Pak to create atmosphere conducive to dialogue'
Foreign Minister Sushma Swaraj said in Rajya Sabha that the onus is on Pakistan "to create a conducive atmosphere for a constructive and substantive comprehensive bilateral dialogue".
She also denied bilateral relations were tense. "During 2014 and 2015, there was considerable improvement in ties."
In the Lok Sabha, Defence Minister Arun Jaitley said Indian armed forces are "fully equipped to deal with any situation".
Love Politics news?
Stay updated with the latest happenings.
Notify Me
Cong continues protests against suspension of six members
Congress continued protests against the suspension of six of its members for "unruly behavior". Members demanded its revocation, carrying placards that said: "End discrimination, give justice madam Speaker". Congress also demanded discussions on "mob lynchings".