Politics
AAP MLA Amarjit Singh Sandoa booked for molesting former landlady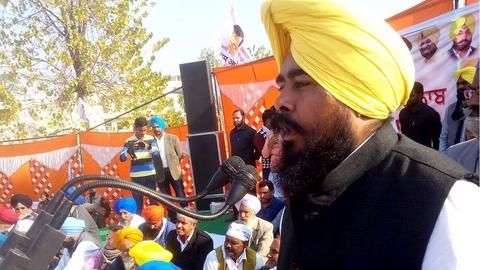 AAP MLA Amarjit Singh Sandoa from Punjab's Ropar was booked for allegedly threatening his former landlady with dire consequences on Saturday.
The complainant Tarminder Kaur alleged that MLA Sandoa used foul language and also pushed her to the ground.
Kaur said that Sandoa stayed in her house till March, but failed to pay rent and even damaged her property.
In context:
Punjab AAP MLA booked for sexual assault
AAP MLAs and their list of unscrupulous doings

Since the time

Aam Aadmi Party

(AAP) has come to power, their members have faced a dozen allegations and police action. More than 13 AAP MLAs have been arrested on various grounds so far.
30 Jul 2017

AAP MLA Amarjit Singh Sandoa booked for molesting former landlady
Love Politics news?


Stay updated with the latest happenings.
Context

Sandoa failed to pay Rs. 3 lakh for repairs: Complainant
Complainant Tarminder Kaur said she owned a house in Zail Singh Nagar locality of Ropar, which she had rented out to Sandoa in 2016.
She alleged that he damaged her property with the cost of repairs running to Rs. 3 lakh.
Kaur further said that Sandoa threatened her on July 27 evening when she went to meet him to settle the bills.
Explanation

It's a political conspiracy, alleges Sandoa
Crying foul, Sandoa said he was being implicated and it was a political conspiracy to malign him.
Denying the allegations that have been slapped on him, he said Kaur came to his place in his absence.
He further added that on returning to the house, he gave her a cheque to clear the pending amount, which she refused to accept.
SAD spokesperson Cheema demands immediate arrest of Sandoa

Senior Superintendent of Police Raj Bachan Singh Sandhu said that a case has been registered against Sandoa under various sections of IPC including section 354, 323 and 506. Meanwhile, SAD party's spokesman Daljit Singh Cheema demanded immediate

arrest

of Sandoa.
Cases

AAP MLAs list of unscrupulous doings
This isn't the first time an AAP MLA has been accused of wrongdoing. Let's take a look at some of the cases.
AAP's Okhla MLA Amanatullah Khan was arrested on charges of intimidating a woman with rape and murder.
Other AAP MLAs booked for sexual assault were Dinesh Mohaniya, Somnath Bharti among several others.
Love Politics news?


Stay updated with the latest happenings.
Conclusion

The murky case of AAP MLAs
The AAP has had a very trying relationship with the Delhi Police with the former accusing the latter of harassing its MLAs.
But what is surprising though, is that so far 13 AAP MLAs have been booked for wrongdoings but only one was acquitted and the rest have trials pending against them.
Moreover, these AAP MLAs have always got bail in the first/second hearing.