Digvijay Singh sacked as Cong Telangana incharge: The end nearing?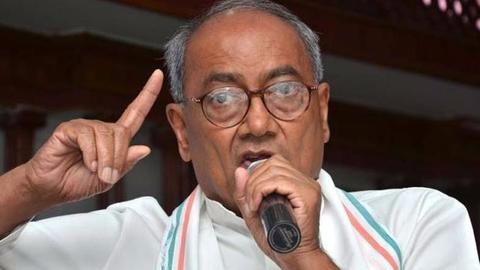 Congress General Secretary Digvijay Singh is no longer in charge of the party's Telangana unit. Just three months ago, he had lost charge of Goa and Karnataka.
The series of demotions started after Congress failed to form the government in Goa despite winning more seats than the BJP.
AICC secretary RC Khuntia is replacing Singh. Satish Jarkiholi, new AICC secretary, will assist Khuntia.
In context
Is this Digvijay Singh's journey to the bottom?
What went wrong in Goa?
In the February elections, Congress won 17 seats in the 40-member assembly, four more than the BJP. But the latter was quicker in assembling smaller local parties and forming the government with their assistance under Manohar Parrikar's supervision. Since then, it's been downhill for Singh.
History
Some highs, many lows in Singh's 40-year-old political career
70-year-old Singh has been active in politics since he won in Madhya Pradesh in 1977. In 1984 he became an MP, and the Madhya Pradesh CM for two terms since 1993.
However, his career has been marred by significant defeats in management, including in UP and Madhya Pradesh.
In Telangana, he failed to shake the ruling TRS despite widespread disappointment with the government.
Love Politics news?
Stay updated with the latest happenings.
Notify Me
Controversies
The many controversies of Digvijay Singh
There have been controversies too, and several. Singh has accused RSS of training activists in making bombs, has termed the Batla House encounter fake, linked PM Modi to the 2013 Bodh Gaya blasts… the list is endless.
In 2014, he admitted to a relationship with 43-year-old Rajya Sabha TV anchor Amrita Rai after their photos were leaked; Rai was then married to someone else.
Future
What's the future look like for Singh?
Once a formidable force, Singh now has responsibility only of Andhra Pradesh; however, speculations abound about whether that role will stay with him for long.
Some say vice president Rahul Gandhi will put a reshuffle on hold till his elevation in the party hierarchy after the organizational polls in October.
Coincidentally, Singh has also announced plans for a six-month 'Narmada Parikrama' starting September end.
Rahul-Digvijay
Does this also mean an end to the Digvijay-Rahul friendship?
It is ironical that Rahul, with whom Singh shares a close bond, might be the one to dismiss him.
Despite opposition from some party stalwarts, Singh has consistently batted for Rahul, his mentee, becoming the party chief.
Even after Goa, when local leaders were fuming at Rahul for being inaccessible, it was Singh who took the fall. Later, he tweeted he's loyal to the "Nehru Gandhi Family".