Politics
SP leader Azam Khan's son guilty of faking date-of-birth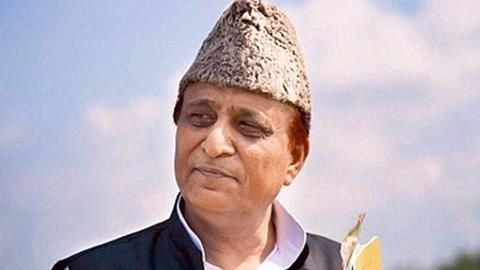 Samajwadi Party found itself in the middle of yet another controversy, and could be staring at the possibility of losing the UP Assembly membership of former Cabinet minister Azam Khan's son- MLA Abdullah Azam Khan.
An inquiry by the District Magistrate of Rampur revealed that Abdullah Khan had indeed faked his date of birth by fraudulently acquiring 2 PAN cards to contest Assembly polls.
In context:
SP's Abdullah Khan guilty of submitting fake documents
04 Aug 2017

EC opens inquiry against Abdullah Khan over fake documents
Acting on a complaint, the Election Commission ordered Rampur District Magistrate to launch an inquiry against Samajwadi Party leader Azam Khan's son, Abdullah Azam Khan for holding two PAN cards.
Aakash Saxena, the complainant alleged that Abdullah Azam had 2 PAN cards and that he had provided one to the Election Commission of India and used another to file his Income Tax Return.
11 Aug 2017

SP leader Azam Khan's son guilty of faking date-of-birth
Love Politics news?


Stay updated with the latest happenings.
11 Aug 2017

How Abdullah faked his documents?: The story of 2 PAN-cards
The report found that Abdullah got first PAN card (DFOPK6164K) in 2013 with date of birth as 1 January 1993, making him ineligible to contest elections.
An alternate PAN card (DDWAPK7513R) was made in 2015 where his birth-date was changed to 30 September 1990.
In the nomination papers, the second PAN card was used along with a fake birth certificate and fake Aadhaar card.
Implications on Khan

What will now happen to Abdullah Khan?
In 2013, the Delhi High Court had directed the Election Commission to set aside any representative's election if nomination papers were submitted through fake documents.
As per Section 125A of Representation of People's Act, 1951, Abdullah 's seat from Swaar in Rampur may be set aside.
He could also face fine, a jail term of 6 months or both.
Even our PM was accused of faking birth date

In 2016, Congress questioned the authenticity of Modi's official date of birth. While the Lok Sabha and Gujarat Assembly websites declare him 17 September 1950 born, the records at MN College of Science in Visnagar, cited his date of birth as 29 August 1949.