The iBug: Now, users can't type letter "I" on iPhone!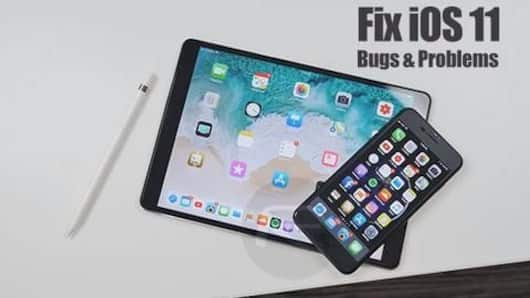 If you have an iPhone and haven't updated to iOS 11.1 yet, you might want to wait!
Some iPhone users, after the recent iOS 11.1 update, are facing a bizarre issue. They are unable to type capital letter "I" from the built-in keyboard.
The iOS bug is inexplicably auto-correcting "I" to "! ?" or "A ?".
Find out how it can be fixed!
In context
Apple iOS 11.1 autocorrect "I" bug
Issue
Affected iOS 11 version available on iPhones, iPads
Many frustrated iOS 11.1 users took to social media to explain the issue they are facing. However, some users haven't been affected.
Addressing the issue on its website, Apple said if users updated their "iPhone, iPad, or iPod touch to iOS 11 or later" they may find that when they "type the letter "i" it autocorrects to the letter "A" with a symbol."
Details
Glitch in iOS auto-correct software
The iOS 11.1 auto-correct "I" bug could be related to Apple's cloud-based synchronization for the predicative-text function on the keyboard that reads "I", according to The Guardian.
Even if an Apple device is unaffected by the glitch and can type "I", it can still see the auto-corrected "A ?" or symbols while receiving text messages sent from a victim (affected) device.
Love Tech news?
Stay updated with the latest happenings.
Notify Me
iOS 11 Calculator error
Recently, an error in iOS 11's Calculator was discovered. Users got wrong answers while adding multiple numbers quickly. The problem is the calculator animation used by Apple. It ignores certain symbols when calculations are entered quickly, messing up the result due to animation lag.
Fix
How to fix the auto-correct bug?
Apple stated the glitch would be fixed in a future iOS update and also offered a temporary workaround for the autocorrect bug on its website.
It suggests setting up "Text Replacement" for the letter "I" by going to "Settings > General > Keyboard > Text Replacement" and tap "+".
Apple said, "For Phrase, type an upper-case 'I'. For Shortcut, type a lower-case 'i'."
The bigger issue?
A phone restore may not really help!
While it isn't clear as to when Apple would fix the auto-correct issue, affected users can try some simple fixes.
The easiest solution is, installing a reliable third-party keyboard, such as Google's Gboard.
AppleInsider says users can disable "Predictive Text" (Settings >General >Keyboard >Turn Off Auto-Correction and Predictive).
Restoring the device may fix the problem, but Apple Community Support Forums suggest it isn't permanent.