Apple working on "foldable" iPhone that opens like a book!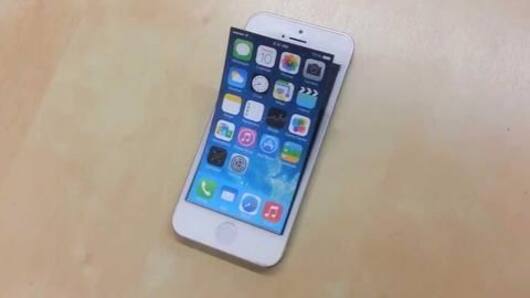 While Samsung, with Galaxy X slated for 2018 release, may be ahead of Apple in the foldable-phone-race, a patent by Apple suggests a foldable iPhone could be in the works that could be "opened and closed like a book."
Apple's patent application "Electronic Devices With Flexible Displays" talks about an unnamed device but it could be related to a possible foldable iPhone.
Here's more!
In context
Apple patent application for devices with flexible displays
Partnership
Apple teams up with LG for foldable display
The US Patent & Trademark Office published Apple's patent application for the unnamed device, for which the Cupertino tech-giant is believed to be working with LG to develop its screen.
Previous reports also claimed that Apple is secretly working on a foldable iPhone and partnered with LG and not Samsung (the world's best OLED screen maker) due to concerns over design and specification leaks.
Details
Patent shows all-screen device with bend axis
The patent was filed by Apple on 22 Sep'16, meaning it describes a "relatively new invention".
The new iPhone would have a flexible OLED screen in a brand-new design; the patent suggests that the device itself is foldable.
It would have a full-screen display with a flexible area in the middle that would bend to separate the screen into halves (like a book).
Love Tech news?
Stay updated with the latest happenings.
Notify Me
What does the patent say?
"An electronic device may have a flexible portion that allows the device to be folded. The device may have a flexible display. The flexible display may have a bending region that allows the display to bend along a bend axis when the device is folded."
Screen modes
Device may be used as regular iPhone or iPad
The iPhone could bend in such a manner that the screen-halves would face each other and/or away from each other.
If the device offers both the screen-modes, then it could be used either as an iPhone with front and back displays or like a small-sized iPad having a laptop mode.
Though Apple has patented the technology, there's no guarantee that it would use it.
Display
iPhone could sport micro-LED display
Apple's patent application also suggests it could use micro-LED display technology for the foldable iPhone.
Previous reports have also claimed that the Cupertino giant is looking to replace the LCD/OLED displays with micro-LED.
While LED screens are transmissive, micro-LED displays are emissive (self-emitting), meaning that every pixel, which has sub-pixels, is its own light source.
Micro-LEDs offer high contrast ratios and deep blacks.
Samsung
Samsung to launch foldable Galaxy X in 2018
While reports claim that the mysterious "foldable" iPhone would not be launched before 2020, Apple's rival Samsung is reportedly set to unveil its foldable Galaxy X next year.
Samsung has recently confirmed that the Galaxy X smartphone is in the works; it could release the bendable phone in limited numbers.
Galaxy X could have a hinge and bendable screen with a flip-phone-like design.