Freedom-251 maker asks for govt's help, promises delivery soon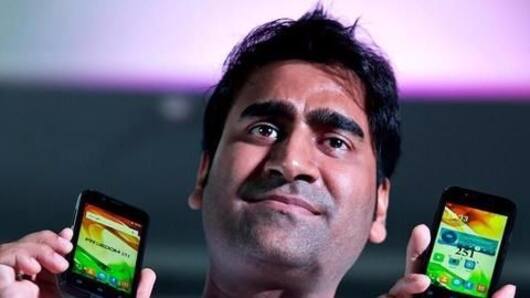 Mohit Goel, director of the firm behind world's cheapest smartphone, Freedom 251 phone, is back in news.
The man who was arrested in February for alleged fraud is now asking the government for help. With some support, he claims that he can deliver the handsets to customers by March-April 2018.
He has also revealed why he couldn't deliver the phone earlier. Find out more.
In context
Freedom 251 maker talks failures and commitments
Specs
The Freedom 251 was a huge hit when released
In February'16, Noida-based Ringing Bells announced the Freedom 251- the world's cheapest smartphone.
It came with a 4-inch touchscreen, 1GB RAM, 8GB storage, a 3.2MP back-camera and 0.3MP front-camera, and runs on Android's Lollipop 5.1.
When sales opened in February, they reportedly received over 70mn registrations.
The plan was to deliver 2.5mn handsets by June'16, but by July, it had delivered only 5,000.
Controversies
A year later, he had been arrested for alleged fraud
In February'17, Goel was arrested after Ghaziabad-based Ayam Enterprises accused Ringing Bells of defrauding it of Rs. 16 lakh.
He was released after six months, reportedly after a compromise between the parties involved.
But Goel laments that the government didn't come to his help despite his commitment to 'Make in India' and 'Start-up India'.
Love Tech news?
Stay updated with the latest happenings.
Notify Me
Reasons
So why couldn't he deliver the Freedom phones?
Now Goel says two men duped him of Rs. 3.5cr while promising to deliver the handsets on time, but they never did.
"My vendors didn't deliver on time and I failed," he rued.
He has now filed an FIR against the men. Soon after, cops arrested Vikas Sharma and Jeetu, who have been sent to Dasna jail.
Future
What are Goel's plans for now?
For now, Goel is focused on delivering the Freedom phones to those who had booked it. "I need one opportunity to come back clean and provide people handsets by March-April'18."
He also mentioned the possibility of entering into another venture, refusing to disclose more details. "But I'll provide the mobile phones to the people."
Meanwhile, Ringing Bells President Ashok Chadda still languishes in jail.