Top 8 smartphones for every budget segment in India!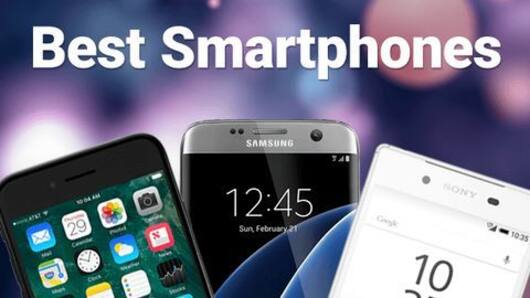 The year 2017 has seen some of the most spectacular smartphone launches. Bezel-less, edge-to-edge display on devices has been the "hottest trend" this year.
Almost every smartphone maker, including Samsung, Apple, Google, and OnePlus, has adopted the minimal or no bezels design.
However, there have been some exciting entry-level and mid-range releases, too.
Here's a look at the recent budget-friendly, mid-range, and premium devices.
In context
Best 2017 smartphones in every price range
Desh Ka Smartphone
Xiaomi Redmi 5A: The truly affordable "Desh Ka Smartphone"
Xiaomi Redmi 5A is currently the best budget-friendly option available in India.
Though it is an entry-level device, it doesn't compromise on hardware-specs and performance.
Redmi 5A has 5-inch HD display, Qualcomm Snapdragon 425 processor, 2GB/3GB RAM, 16GB/32GB of inbuilt storage, 3,000mAh battery, 13MP primary camera, and 5MP selfie shooter.
The 2GB+16GB model costs Rs. 4,999, while the 3GB+32GB variant costs Rs. 6,999.
Details
Honor 7X: The budget-friendly, slim bezel, dual camera phone
Chinese electronics giant Huawei's sub-brand Honor recently launched the thin-bezel Honor 7X, which has pretty modern looks and decent specs.
It features a 5.93-inch bezel-less FHD+ display, HiSilicon Kirin 659 processor, 4GB RAM, 32GB/64GB internal storage (expandable up to 256GB), 3340mAh battery, 2MP+16MP primary camera, and an 8MP front camera.
The 32GB variant costs Rs. 12,999 while the 64GB model costs Rs. 15,999.
Love Tech news?
Stay updated with the latest happenings.
Notify Me
Xiaomi
Xiaomi Mi A1: Another best offering in the budget segment
Xiaomi Mi A1 is one of the best smartphones available in the Indian market.
It comes with a 5.5-inch Full-HD Display, Snapdragon 625 chipset, 4GB RAM, 64GB internal storage, 3,080mAh battery
It has 12MP+12MP dual rear camera and 5MP front camera.
The device was initially priced at Rs. 14,999. After receiving a permanent Rs. 1,000 price cut, it is available for Rs. 13,999.
OPPO
OPPO F5: Best mid-range smartphone
OPPO F5 is one of the best mid-range smartphones available for under Rs. 25,000.
It sports a 6-inch display, octa-core MediaTek Helio P23 processor, 4GB/6GB RAM, 3,200mAh battery.
The device comes with an AI-powered 20MP selfie shooter and a 16MP rear camera.
It has two storage variants. The 4GB+32GB model costs Rs. 19,990 and the 6GB+64GB variant costs Rs. 24,990.
OnePlus
OnePlus 5T: OnePlus's bezel-less premium flagship
Following the 2017 bezel-less, all-screen trend, Chinese device maker OnePlus also launched its first-ever bezel-less display device, OnePlus 5T.
It features a 6.01-inch 18:9 AMOLED full-screen immersive display, Snapdragon 835 processor, 6GB/8GB RAM, 64GB/128GB internal storage, and 3300mAh battery.
It has a 20MP+16MP dual primary camera setup and a 16MP selfie shooter.
The 6GB+64GB variant costs Rs. 32,999 while 8GB+128GB costs Rs. 37,999.
Google
Google Pixel2 XL: Big screen device with great camera
Joining the other bezel-less smartphone makers, Google launched "Pixel 2 XL" that sports a 6-inch QHD+ P-OLED display with an 18:9 aspect ratio.
It is powered by the latest Qualcomm Snapdragon 835 processor paired with 4GB RAM, and 3,520mAh battery.
It has 8MP front and 12.2MP rear cameras.
The 64GB variant is priced at Rs. 73,000, while the 128GB model costs Rs. 82,000.
Samsung
Samsung Galaxy Note 8: One of the hottest 2017 flagships
Samsung's bezel-less Galaxy Note 8 is the company's first device to feature dual cameras.
Sporting a 6.3-inch QHD+ Super AMOLED Infinity Display, it runs on Samsung's Octa-Core Exynos-9 8895 processor paired with 6GB RAM and 64GB internal storage.
It has 12MP dual rear cameras and 8MP front camera. It supports iris scanner, stylus S-Pen, and Samsung's virtual assistant Bixby. It costs Rs. 67,900.
Apple
iPhone X: The biggest smartphone launch of the year
Apple's tenth-anniversary iPhone edition, iPhone X, comes with an "edge-to-edge" 5.8-inch OLED display with a notch on the top for sensors.
Facial-recognition-powered FaceID replaces the TouchID on the device.
It houses Apple's A11 Bionic chip with 3GB RAM and 64GB/256GB onboard storage.
It has a 2,716mAh battery and supports wireless charging.
The 64GB variant costs Rs. 89,000 and the 256GB model costs Rs. 1,02,000.