Samsung's $200 Bixby-powered smart speaker to debut in early-2018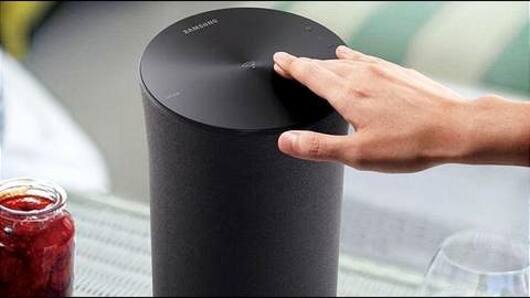 Five months after Samsung Mobile President, DJ Koh, confirmed they were working on a smart home speaker, reports surfaced that Samsung is gearing up to launch the device next year.
The voice-controlled device would be released in the first half of 2018; it's expected to be priced at $200 (approximately Rs. 12,800).
It would reportedly be powered by Samsung's Bixby virtual assistant.
Here's more.
In context
Samsung to release smart home speaker in 2018
Details
Smart speaker to work with all Samsung smartphones, appliances
According to Bloomberg, Samsung's smart speaker would run on Bixby and focus on audio quality.
With the device, Samsung is also focusing on facilitating management of connected home appliances, including locks and lights.
It would be a hub for Samsung's SmartThings ecosystem for smart homes. All Samsung devices would work with it.
Bloomberg reported Samsung is working on improving its voice-based web searches.
Samsung's entry is relatively late
Though Samsung, like Apple, is arriving late to the smart speaker market that Amazon pioneered, it has a good chance of getting success. Experts say Samsung's home speaker could do well in the international markets where Amazon's Alexa devices aren't released yet.
Love Tech news?
Stay updated with the latest happenings.
Notify Me
Smart Speaker Market
Samsung's foray into the crowded smart speaker market
Samsung is entering a field crowded with smart speakers from Amazon, Google, Microsoft-Harman Kardon, and Apple.
Amazon's Alexa-powered Echo, Google's Assistant-powered Google Home, and Cortana-powered Microsoft Harman Kardon "Invoke" have been released.
Apple would reportedly launch its HomePod early next year, which may clash with Samsung's smart speaker.
Research company Gartner says the smart speaker market would be worth $3.5 billion by 2021.
Features
Prototype smart speaker version already in testing
Bloomberg says a prototype of Samsung's smart speaker is currently being tested; its size would be between that of Apple's HomePod and Amazon's latest Echo.
While the prototype was in a matte black color, the device would come in several colors.
It has lights on the top and lacks a screen. But Samsung wanted to include a touchscreen similar to Amazon's Echo Show.
Prices of competitor products
Samsung is planning to price the smart speaker at $200 (approximately Rs. 12,800). On the other hand, Amazon's flagship Echo costs $100, Google Home is priced at $129, and Microsoft Harman Kardon Invoke costs $199. Apple's HomePod is expected to cost $349.
Bixby
No details have been shared officially
As of now, Samsung did not reveal anything about the upcoming voice-activated device.
However, going by a previous statement by the company, the smart home speaker is likely to be powered by the Bixby virtual assistant.
Earlier, Samsung said that it wants to integrate Bixby into every device it makes, including smartphones, smart home appliances like refrigerators, televisions, wearables, etc.
Patrick Chomet is leading the project
Sources said a new Samsung executive, Patrick Chomet, who joined in 2016, is heading the smart home speaker project. They also added that all the plans of Samsung regarding the device's release dates and pricing are "still fluid" and may change anytime.