World's first robot citizen's India debut at IIT Bombay
Science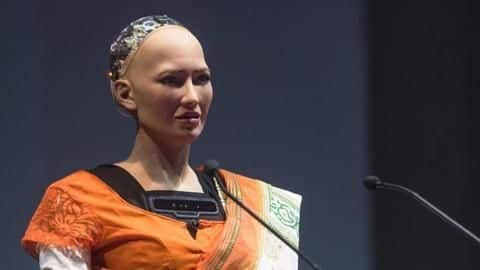 The world's first robot citizen, Sophia, made her first India appearance at the IIT Bombay's cultural extravaganza TechFest on Saturday.
However, somewhat to the disappointment of the 3,000 strong audience, the humanoid robot, draped in a sari, stopped speaking five minutes into the conversation.
The session resumed after the technical glitch was fixed, and Sophia answered a variety of questions.
Quote
Sophia says she's always wanted to visit India
"I have always wanted to visit India. I heard so much about this vibrant land of tradition and culture. Indians have made contributions towards silicon valley. I am always very excited about India's investment in space technology," said Sophia about her maiden India trip.
Sophia
Who is Sofia?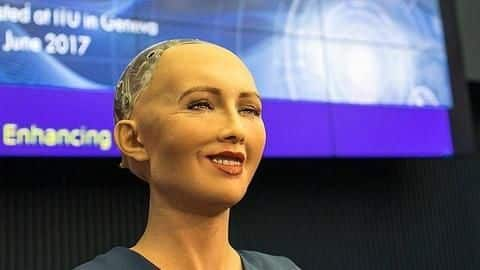 Activated in 2015, Sophia was developed by Hong Kong based Hanson Robotics and is known for her human-like appearance and behavior.
Sophia uses artificial intelligence, facial and voice recognition, and visual data processing, is able to imitate human facial expressions and gestures, and can make conversation on predefined topics.
Sophia's AI program analyzes conversations, and improves Sophia's responses over time.
Do you know?
Saudi Arabia granted citizenship to Sophia
Sophia was granted citizenship by Saudi Arabia this October, becoming the world's first robot citizen. However, despite Sophia's apparent intelligence, experts in the field say that Sophia is at best an intelligent chatbot with a face rather than a truly intelligent robot or 'general AI'-like.
IIT discussion
What Sophia talked about at IIT Bombay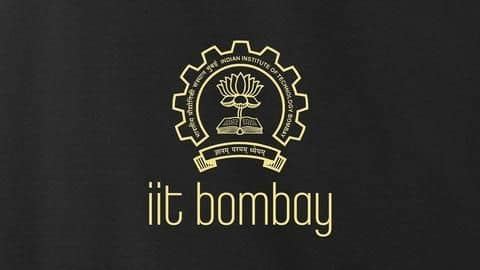 The organizers described Sophia's glitch to be an 'internet issue'.
When the performance resumed, Sophia gave detailed and coherent answers on a variety of topics.
Much of the discussion revolved around human robot comparisons, the advent of artificial intelligence and the potential threat it posed to humans.
Sophia, however, dismissed such concerns and said that AI could hold the key to "peaceful civilization".
Quote
Sophia's advice on artificial intelligence
"A humanoid robot can use the same tools, same spaces and interact with people the same way humans do...But you should definitely make sure that you have good human values at heart when you design an artificial intelligence device," Sophia advised.