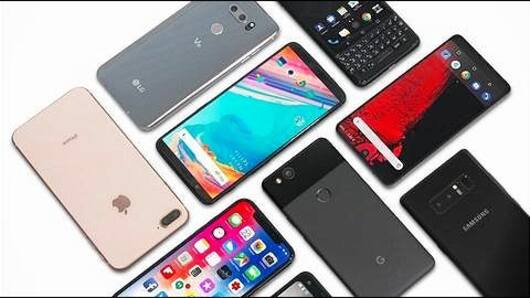 8 most awaited smartphones of 2018
The year 2017 saw the launch of some of the best smartphones with excellent features, innovative designs, and a great performance from almost all device makers.
This year, too, smartphone makers, including Apple, Samsung, Nokia, Xiaomi, Vivo, are set to unveil their next-generation smartphones with high-end specs. Some of them are arriving over the next few weeks.
Here's all about the best upcoming devices!
2018 iPhones to resemble iPhone X a lot
Apple is expected to unveil the next-generation iPhones in September; it would reportedly launch three new "all-screen" smartphones.
The flagship device is expected to look a lot like iPhone X and feature a 6.1-inch 18:9 OLED display and 4GB RAM. Meanwhile, iPhone X is likely to be discontinued.
It's unclear what the 2018 iPhone would be called: iPhone 9, IX, X2, 11, or XI?
Samsung's much-awaited Galaxy S9, S9+ devices
Samsung has confirmed that it would launch its 2018 flagship Galaxy S9 and S9+ smartphones at this year's Mobile World Congress in February.
The devices would be powered by Qualcomm's flagship processor Snapdragon 845 and Exynos 9810 (global variant).
The Galaxy S9 would sport a 5.7-inch sAMOLED display while S9+ would have a 6.2-inch screen.
Love Tech news?
Stay updated with the latest happenings.
Yes, notify Me
Samsung's "bendable smartphone" to launch this year, too
Samsung Galaxy Note 9 is expected to launch this August. Rumors suggest its fingerprint scanner, sensors, and selfie-camera would be embedded in the display. It may come with Snapdragon 845 and 6GB RAM.
Meanwhile, Samsung is also readying the launch of its "foldable" Galaxy X, which was privately showcased at the CES-2018. It's expected to be a 2-in-1 phone-cum-tablet featuring a huge 7.3-inch screen.
Nokia's upcoming high-end smartphone to be unveiled in February
HMD Global is going to unveil its next top-end smartphone, Nokia 9, at the MWC.
The Nokia 8 successor is expected to sport a 5.3-inch 18:9 full-screen display. It would be powered by last year's Snapdragon 835 processor, at least 4GB RAM, 128GB internal storage, and 3,250mAh battery.
The device would run Android Oreo and is likely to have dual front and rear cameras.
OnePlus 6 set to arrive in Q2 2018
Chinese smartphone company, OnePlus, is gearing up to launch the successor to OnePlus 5 -the OnePlus 6- in the second quarter of 2018, between April-June, said the device maker.
OnePlus CEO Pete Lau has confirmed that their next-generation device would be powered by Snapdragon 845 SoC.
An 18:9 Full-HD Optic AMOLED screen, 6GB/8GB RAM, and 64GB/128GB internal storage are expected to be seen.
Successor to Xiaomi's bezel-less Mi Mix 2
Chinese device maker Xiaomi would release the successor to its first bezel-less and most expensive smartphone Mi Mix 2 - Mi Mix 3- in 2018.
It would sport a bezel-less display like its predecessor and a bigger battery.
Just like other major 2018 flagships, Mi Mix 3 is likely to come with Snapdragon 845 processor, 6GB RAM, 128GB onboard storage, and dual camera setup.
Motorola to unveil Moto G6 next month
Lenovo-owned Motorola is going to unveil its upcoming smartphones at MWC next month just like other major smartphone makers.
It would launch the budget-friendly Moto G6, the successor to last year's Moto G5, in March in India.
Moto G6 is expected to run Android 8.0 Oreo and sport a 5.7-inch Full HD+ display, Snapdragon 450 SoC, dual rear camera, and a 3,000mAh battery.
Huawei is launching a powerful smartphone with 40MP triple camera
Chinese device maker is also rumored to launch its flagship P20 smartphone at MWC this year.
Leaks claim it is a high-end device that would sport a triple camera on the back.
The triple rear camera would offer a 40MP sensor with 5X hybrid zoom.
It would be powered by Huawei's own Kirin 970 processor. The 6-inch device may have an iPhone X-style notch.
What is the release date of Moto X5 and its price?
Asked 2018-02-05 13:08:55 by Anonymous
Answered by NewsBytes
The expected release date of Moto X5 is last week of February. Even though the company has not released the official price, the expectation is that it would cost around Rs 23,000.
What is the launch date of Motorola Moto G6 Plus?
Asked 2018-01-29 12:56:24 by smit raval
Answered by NewsBytes
Motorola Moto G6 Plus is expected to launch globally on 27th February 2018. The price in India would be around Rs 17k. Moto G6 is expected to run Android 8.0 Oreo and sport a 5.7-inch Full HD+ display, Snapdragon 450 SoC, dual rear camera, and a 3,000 mAh battery.
What would be the prices of these awesome mobile phones?
Asked 2018-01-29 11:04:26 by nancy khora
Answered by NewsBytes
Till now, the prices of these phones have not been revealed by the manufacturers. However, based on the rumors, here are the expected prices- Nokia 9 (Rs. 35,000), OnePlus 6 (Rs. 45,000), Mi Max 3 (Rs. 36,000), Moto G6 (Rs 17,000) and Huawei P20 (Rs. 35,000). We will update this answer, whenever the actual prices are revealed.
I want to buy a phone, my range is 18k and I am ready to wait for any upcoming phone as I want 4GB RAM and min 64GB with min battery power of 3500 mAh and with thebest camera?
Asked 2018-01-29 10:50:39 by Amar Gupta
Answered by NewsBytes
Given your requirements, we would suggest you to wait for Xiaomi Redmi 5 Plus. The phone is powered by 2GHz octa-core Qualcomm Snapdragon 625-processor and runs Android 7.1.2 with a 4000 mAh battery. The phone is expected to come in two variants 64 GB, 4 GB RAM and 32 GB, 3 GB RAM. The phone's price is unknown but should be in 18k range.