Foldable Galaxy X coming this year: Here's what we know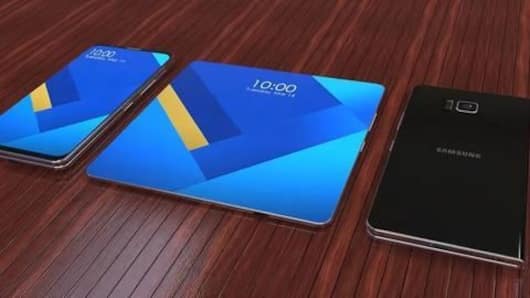 Samsung's much-awaited "foldable" smartphone, unofficially dubbed the Galaxy X, might finally make its debut by the end of 2018. The company has confirmed it is working on foldable OLED displays, discussing its smartphone plans.
Samsung even secretly showcased the "almost finished" foldable phone at the CES-2018.
While the tech giant hasn't officially revealed anything, here's what we know so far about the device.
In context
What we know about Samsung GalaxyX so far
Display
Upcoming device may have the biggest display ever
Samsung's foldable smartphone may have two huge OLED screens, each measuring 7.3 inches.
From the numerous patent leaks, we can expect a foldable, book-like device having two screens that closes/opens inward or one that closes/opens horizontally like a notepad.
Many suggest it would have a tablet-like screen, which is split into two panels that can show one big picture or different things, too.
A built-in screen protector?
Tech enthusiasts say Samsung's smartphone that folds inwards would serve as its own screen protector. But, it depends on what material Samsung is using for the outer body. The device would be similar to a "clamshell" phone with a hinge holding the displays together.
Love Tech news?
Stay updated with the latest happenings.
Notify Me
Design
Galaxy X may be completely different from your expectations
While Samsung smartphones are known for their good looks and sleekness, Galaxy X may be on the heavier and bulkier side, which may be difficult to carry around.
Previous leaks showed the phone with a large, not-so-elegant hinge which was quite noticeable between the two displays.
It may resemble the ZTE Axon M which also has two screens and a hinge in between.
No Curved Display
Samsung may not include Edge panel in Galaxy X
Samsung may decide to drop its "Edge" curved display and software features for the foldable Galaxy X, as it isn't likely that it would make a device with both foldable display and curved edges.
The "Edge" is like a second screen on Samsung devices that offers app shortcuts and easy access to functions.
However, the foldable phone may host apps on the "home screen".
Availability
Galaxy X might release in few markets with limited availability
While showing off the foldable phone at CES, Samsung reportedly said the device would be unveiled in 2018 and released next year.
However, it would be released in some markets with "extremely" limited availability. Samsung might first want to understand how users "receive" its foldable display technology, using it as a "testbed" for future devices, before producing foldable phones on a larger scale.
Limited Release
Samsung did limited-release tests even in the past
Samsung could be taking a risk by including a hinge and bendable screen in the Galaxy X. While many are interested in the folding smartphone now, it all depends on how it is received after release.
The company had experimented with limited-market-release even in the past for Galaxy Round with "curved display" in 2013 and Galaxy Note Edge with "curved edge" in 2014.
Pricing
Galaxy X would come with a hefty price tag
Many reports suggest Galaxy X with new OLED display technology could be one of Samsung's most expensive offerings. It could be priced over $1,000.
Its pricing depends upon factors like its processor, memory, storage capacity, etc.
As it comes with its new foldable display technology, experts say, it may also have a "host of new issues" that would be unknown until people use it.