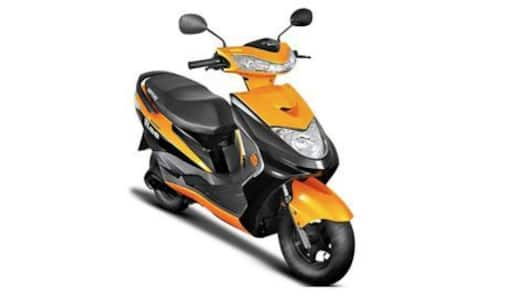 Indian company launches electric scooters that need no registration
Ampere Electric Vehicles, a Coimbatore-based electric vehicle manufacturer, has launched two new electric scooters.
The Ampere V48 is priced at Rs. 38,000 and the Reo Li-Ion is priced at Rs. 46,000.
Notably, these scooters do not require any registration because their top speed is under 25 kmph, which exempts them from the category of motor vehicles.
Here's all you need to know about them.
Both scooter get a 48V lithium-ion battery, 250W motor
Both the Ampere V48 and Reo Li-ion scooters feature a 250W brushless DC motor and are powered by a 48V lithium-ion battery pack.
In terms of load capacity, the Reo Li-Ion and Ampere 48V can haul up to 120 kg and 100kg respectively.
According to Ampere, both scooters can be fully charged within 4-5 hours and have a range of 65-70 kilometers, when charged.
Ampere has launched a new Lithium-ion charger, battery monitoring system
Ampere has also introduced a new lithium-ion charger which costs Rs. 3,000. With a two-stage profile, the charger can change the voltage and the current level for improved charging. Moreover, the battery gets a monitoring system which offers protection against short-circuit, high-temperature cut-off and reverse-polarity.
Love Tech news?
Stay updated with the latest happenings.
Yes, notify Me
These e-scooters don't require registration and driving license
According to Automotive Research Association of India (ARAI), a government enterprise, "Electric Vehicles, which have power less than 250W and speed less than 25 kmph are not categorized as motor vehicles."
"Hence the transport rules are not applicable for such exempt category vehicles," the ARAI observes.
Therefore, Ampere's e-scooters don't require registration and the rider doesn't need to have a driving license.
Ampere has sold over 35,000 e-scooters in India since 2008
Currently, Ampere has 150 dealerships in India with a presence in 14 states, with a major focus is on Tier II and Tier III cities. Notably, since the company began its operations in India in 2008, Ampere has sold over 35,000 electric scooters.
About Ampere
Ampere was founded by Hemalatha Annamalai, a software engineer who kick-started the venture with Rs. 10 crore worth of personal savings.
The firm raised about Rs. 20 crore from India's Forum Synergies and Spain's Axon Capital and later in 2015, Ratan Tata made an undisclosed personal investment in the company.
Currently, Ampere manufactures electric vehicles and special-purpose-vehicles for the differently abled people, among others.