Snapchat has launched a new feature called "Clear Chats" that allows users to delete sent messages from both individual and group chats.
However, the feature only works for messages that have not been read or opened by the recipient(s) at the time of deletion.
The feature will roll out to all users globally within the next few weeks.
In context
Snapchat finally allows deletion of sent messages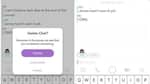 Details
Retract your embarrassing messages
Here's how the feature works: Long-press the sent message you want to delete. It can be in the form of any media including text, audio, photo, video, and sticker.
Tap "Delete" on the pop-up that will appear, and the content in question will be deleted for everyone in the chat.
Please note that recipients will still get notified about a message having been deleted.
Limitations
However, Snapchat warns users that the feature is not full-proof. It won't necessarily work if the recipient doesn't have an updated version of the app or a proper internet connection. And of course, users can still take screenshots, which render the feature useless.
Love Tech news?
Stay updated with the latest happenings.
Notify Me
Context
Get in control of your Snaps
Snapchat is known for spearheading short-lived, ephemeral exchange of content.
Messages get auto-deleted 10 seconds after they're viewed on the app and the now-famous 24-hour temporary "Story" feature which is functional on all major social media platforms like Facebook, Instagram, and WhatsApp was originally launched by Snapchat.
Further, you are alerted on Snapchat if someone chooses to screenshot your Snaps. How do I update my birthday on Snapchat?
Asked on 13-06-2018 by Anonymous -
Answered by NewsBytes
You can set or edit your birthday on Snapchat by following these steps- (1)On the Profile screen, tap 'Settings' icon. (2)Tap 'Birthday' under the 'My Account' section. (3)Update your birthday to the correct date and select 'Okay' to confirm. Please Note that you can only change your birthday a limited number of times.

What is My Score on Snapchat and how and where do I see it?
Asked on 13-06-2018 by Anonymous -
Answered by NewsBytes
According to Snapchat, your Snapchat score is determined by a super secret special equation that combines the number of Snaps you've sent and received, the Stories you've posted, and a couple of other factors. You can always see your Snapchat score right under your name on the Profile screen!

More questions