Facebook confirms it tracks everything about you. And, it's creepy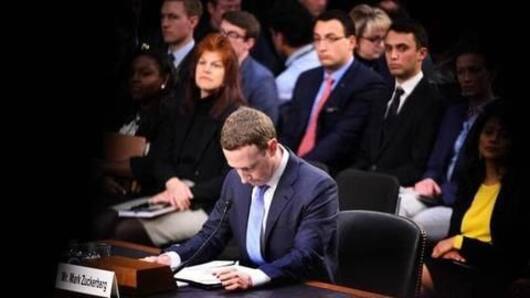 Facebook has submitted a 454-page report to the US Congress detailing all the ways through which it tracks users' activities.
The report comes in response to the questions CEO Mark Zuckerberg was asked by the lawmakers in April over the Cambridge Analytica scandal, which involved data breach of 87 million users.
Here are things Facebook does to keep a tab on users.
Brace yourselves!
In context
Here is how Facebook knows everything about you
Multiple disclosures
Mouse movements and device operations
Facebook tracks your exact on-screen mouse movements when you are on the social network. This apparently helps the company "distinguish humans from bots."
In fact, Facebook also knows if your browser window for the social network is at the foreground of your computer screen or the background. This helps the company learn more about how you use its social network.
Internet no bar
Offline and online purchases made via third-party providers
But perhaps the most surprising revelation is that Facebook not only gathers data from online third-party websites and mobile apps, but also offline third-party providers.
This means that a business possessing the rights to provide user information to Facebook could inform it about an offline purchase you made.
Facebook uses this to gauge if the purchase was made based on a company advert.
Love Tech news?
Stay updated with the latest happenings.
Notify Me
Activity recorded on websites and mobile apps
In terms of online third-party websites, the platforms, that have Facebook's "Business Tools" like "Login with Facebook" and the "Like" button, record your activity and send it back to the company. This is used to see what you are shopping for and target ads accordingly.
Nearby devices
Sometimes Facebook monitors other devices around its users
Let's move on to how Facebook collects data on a hardware level.
In this category, the most shocking disclosure is that sometimes, Facebook not only gathers your device's information, but also of other nearby devices on the same network.
The company said this helps it perform tasks like streaming video, which often requires the involvement of multiple devices.
Data collection
Battery level and available storage space
Facebook tracks the battery level of your device, most probably to see the impact its app has on the battery life.
Notably, a Princeton University research claims that battery life data is sufficient to track web activity of individuals.
Facebook also monitors the storage space available on any device to see whether functions like saving a photo album to the gallery can be performed.
Camera and location
Facebook monitors the camera usage pattern so that it can suggest features like filters and masks to users. The company also staunchly tracks your location data to see the places you are frequenting so that it can tailor adverts in the News Feed to you.
Details
Facebook wants to understand user behavior across devices
Some other things Facebook does are not that surprising. It tracks the device, operating system, software version, mobile carrier, connection speed, ISP, plug-ins installed, and the web browser you are using.
It also monitors your internet signal strength, Bluetooth signals, and nearby Wi-Fi hotspots and cell towers.
Through this, Facebook establishes your trend of using the social network in one particular location or on-the-go.
Facebook Activity
General usage of the service
Lastly, and most naturally, Facebook tracks whatever you do specifically on the social network.
This includes the date and time of your log-ins, the features you use, the posts, photos, and videos you view and interact with, and the people, groups, hashtags, and pages you connect with.
This improves the News Feed for you and advertising for the company.