Google has started rolling out an update to its Google Translate app, which would let you translate offline.
The technology behind both the online and offline usage essentially remains the same. But, with this feature, the language set is saved locally on your device, for offline use.
The feature, which uses Neural Machine translation, is available for both iOS and Android apps of Google Translate.
Here's more.
In context
Google Translate iOS, Android app get offline translation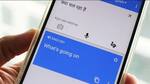 AI-driven
Understanding Neural Machine Translation
In essence, Neural Machine Translation technology streamlines translation by leveraging artificial intelligence to consider a full sentence into context rather than translating it word-by-word.
"It uses broader context to help determine the most relevant translation, which it then rearranges and adjusts to sound more like a real person speaking with proper grammar," according to Google Translate Product Manager Julie Cattiau.
On-the-go translation
About the feature
In 2016, Google had implemented 'Neural Machine Translation' to improve its translation tool. However, till now it was limited to only online usage.
With this latest update, the language set can be downloaded for offline use and stored locally in files whose size varies between 35MB and 45MB.
This means devices with lesser storage capacity can also support this new feature across markets.
Love Tech news?
Stay updated with the latest happenings.
Notify Me
Phased release
Google offline translation will first be available in 59 languages
The feature will first be available in 59 languages, including Arabic, Bengali, Gujarati, English, Hindi, Chinese, and Tamil.
Notably, the roll-out is happening in a phased manner and the update should be available to all users in a few days.
To access offline translations, go to Offline Translation on Google Translate app, tap on the arrow next to the language name to download the set. How to translate a bilingual language using Google Translate on the computer?
Asked on 14-06-2018 by Anonymous -
Answered by NewsBytes
You can't talk and translate at the same time on Google Translate for the web. But you can on a phone or tablet.

How to translate my speech on Google translate?
Asked on 14-06-2018 by Anonymous -
Answered by NewsBytes
You can translate spoken words and phrases if your device has a microphone. In some languages, you'll hear the translation spoken aloud. Follow these steps to translate speech- (1) Go to the Google Translate page. (2) At the bottom left of the text box, click Speak. (3) When told to "Speak now," say what you want to translate. (4) To stop recording, click Speak.

More questions