It was announced at the Google I/O 2018 annual developer conference last month that the Google Assistant will soon be able to handle multiple actions.
The update is now going live for Google Home smart home assistants. It can perform three actions simultaneously in a single voice command.
The feature, called "Multiple Actions," is currently being rolled out across the US.
In context
Google Home can perform 3 actions simultaneously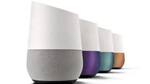 Details
Combine three requests in one voice command
The new feature essentially allows you to stack commands by only saying "OK Google" or "Hey Google" once.
The Google Assistant has also become more natural to talk to, so instead of saying "Hey Google, what's the weather in Delhi and what's the weather in Mumbai," you can conversationally ask, "OK Google, what's the weather in Delhi and Mumbai?"
The feature will become available in these locations
We appreciate the feedback. This feature is supported in the US, UK, Canada and Australia using the English language.

— Made by Google (@madebygoogle) June 12, 2018
Love Tech news?
Stay updated with the latest happenings.
Notify Me
Things to Note
Set alarm, switch off light, play music in one go
In fact, eventually, you won't even have to say the wakeword all the time before talking to your Google Home.
Just make sure that you separate different voice queries with the word "and" in between them.
Further, it is important that each command be wholesome on its own and doesn't require a follow-up question from the Google Assistant.
The feature currently works with US English only
While the feature currently works with US English only, triple commands will be made compatible with other languages in the future as well, Google said. For how long does Google keep my data from Google Home?
Asked on 14-06-2018 by Anonymous -
Answered by NewsBytes
Conversation history with Google Home and the Google Assistant is saved until you choose to delete it.

What and how much does Google Home know about me?
Asked on 14-06-2018 by Anonymous -
Answered by NewsBytes
If you have opted to share information with Google, Google uses that information, along with your Google history, to better assist you with customizations like your name and interests. You can delete your history, which will limit the personalized experience for features like the Google Assistant. You can view your history with the Google Assistant in My Activity.

More questions