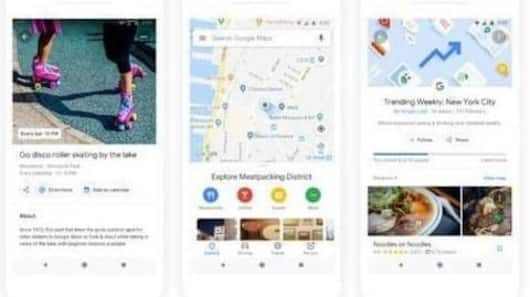 Google Maps becomes personalized, helps explore restaurants and events
Google had announced several major updates to Google Maps at its I/O 2018 annual developer conference last month.
The company has shifted focus from Maps being exclusively a navigation tool to it becoming an AI-powered personalized service offering customized suggestions and restaurant recommendations based on location.
Now the new features have started rolling out to all users worldwide.
The new Explore tab will show trending places in vicinity
Google Maps has added a redesigned "Explore" tab that will serve as a "hub for everything new and interesting nearby."
You can check out a particular location on Maps, and it will show you restaurants, events, and activities in that area.
Features like the "Foodie List" will help you discover new, trending restaurants, curated with the help of local experts, publishers, and Google's algorithms.
A one-stop shop for planning outings
When your friends are in town. And your parents. And it's a heatwave. Don't lose your cool.

Our redesigned Explore tab takes the pressure out of planning with restaurants, events and trending lists all summer long. Available now on Android and iOS. https://t.co/pWR2nLDyqO pic.twitter.com/Ycf9twn5x3

— Google Maps (@googlemaps) June 26, 2018
Love Tech news?
Stay updated with the latest happenings.
Yes, notify me
A news feed-like experience with For You tab
The new "For you" tab will basically showcase interesting updates in your area and recommend new restaurants that have opened.
Your feed will also feature algorithmically designed "Trending this week" lists.
You'll be able to "follow" neighborhoods and cities you want to keep updated on.
The "For you" tab is currently only available in the US, UK, Canada, Australia, and Japan.
No longer basing your decisions on random restaurant ratings
Another major new feature is "Your Match." With this, Google Maps will assign you a personalized score regarding what types of restaurants you like.
This is based on the kind of places you eat at or order from, the ratings you have given to restaurants, and your manually set eating-out preferences.
Your Match will tell you how closely a restaurant matches your own preferences.
What is not included in this release
Notably, the "Group Planning" feature, that allows a group of friends to vote on a list of group outing suggestions, is not a part of this release. Google will also integrate augmented reality-based directions in Google Maps in the future.