Science
Student satellites Swayam and Sathyabamasat launched successfully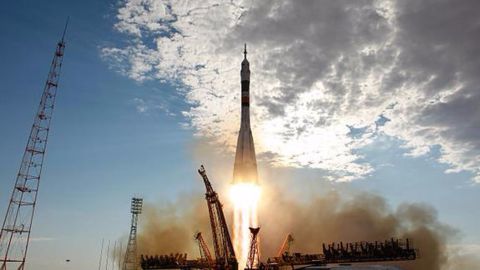 On 22 June 2016, ISRO made history by launching the biggest consignment of 20 satellites.
It was also notable because this included student satellites - SWAYAM and Sathyabamasat.
Sathyabamasat (1.5 kg) was built by Sathyabama University students, to collect greenhouse gases data.
SWAYAM (1 kg) was developed by students of College of Engineering, Pune. This will provide point-to-point messaging services to radio HAM network.
In context:
Student Satellites and the role of ISRO
ISRO's program for students

ISRO's student satellite program
The influence of ISRO on student community and its support to educational institutions in promoting space sciences is huge.
In an attempt to build future scientists, ISRO encourages students to participate in its missions.
As a part of efforts to involve students in its work, the space organization has a programme for academic institutions through which they can venture into working on space technology.
Ways to be involved in ISRO student program

How can students get involved with ISRO?
Academic institutions can get involved in working with ISRO through below options.
Development of Payload : Here, universities can be involved in developing payloads and launch them along with other payloads by ISRO.
Satellite Design and Fabrication : Here, students get involved in design, fabrication and testing of satellite bus and payload, to deliver an integrated unit, for launch. ISRO provides the technical guidance.
Love Tech news?


Stay updated with the latest happenings.
First ever student satellite launched by ISRO

ANUSAT/ Anna University Satellite, was the first ever satellite developed by an Indian university, launched by ISRO. Launched in Apr 2009, it was a 40 kg satellite built by Anna University students, under ISRO's guidance. It carried a 'store and forward payload', meant for communication.
STUDSAT, YOUTHSAT

Launch of STUDSAT and YOUTHSAT
STUDSAT : Launched on 12 July 2010, STUDSAT was developed by 7 engineering colleges from Andhra Pradesh and Karnataka. Weighing 1 kg, it was India's first pico-satellite. It was launched for encouraging space technology in colleges.
YOUTHSAT : Launched on 20 Apr 2011, it was an Indo-Russian mission involving participation of students belonging to different universities. The 'stellar and atmospheric mini-satellite' weighed 92 kg.
Jugnu, SRMSAT

IIT satellite Jugnu and SRMSAT
Jugnu, IIT Kanpur's nano-satellite and SRMSAT, built by SRM University students, were launched together on 12 Oct 2011, along with the Megha-Tropiques satellite.
SRMSAT (10.9 kg) was built to monitor the greenhouse gases, water vapour and CO2 in earth's atmosphere.
Jugnu (3 kg) with a camera, GPS receiver and inertial measurement unit, would transmit images that can help in studying vegetation and water bodies.
23 Jul 2016

Student satellites Swayam and Sathyabamasat launched successfully
Love Tech news?


Stay updated with the latest happenings.
Other student satellites being built

Other satellites by Indian students at different stages of development include : PISAT by PES University, Bangalore, PRATHAM by IIT Bombay students, IIMSAT by IIT Madras, PARIKSHIT by Manipal Institute of Technology, NIUSAT by Noorul Islam University, Kumaracoil, Tamilnadu.
12 Sep 2016

ISRO to launch PRATHAM - students' satellite
ISRO is all set to launch the first satellite by the Indian Institutes of Technology, built by students of IIT-B at ISRO, Bengaluru.
The satellite, called PRATHAM, will be launched as a piggy-back along with ISRO's ScatSat PSLV.
Officials have not yet declared a date for launch; however, students have been given a deadline of 26 September to make the project ready.