2018 iPhones to come in gold, blue, red, orange colors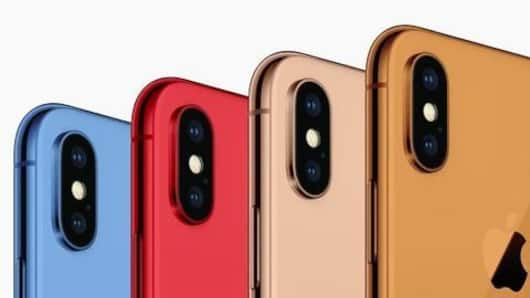 Apple's 2018 iPhone line-up consists of a 5.8-inch OLED display iPhone, a larger 6.5-inch OLED display iPhone, and a more affordable 6.1-inch LCD display iPhone.
Breaking Apple's monochrome pattern, the 6.1-inch iPhone will come in grey, white, blue, red, and orange colors while the 6.5-inch iPhone will come in black, white, and gold color options, reputed Apple analyst Ming-Chi Kuo said.
In context
iPhones to get colorful this year
Details
Three new iPhones to launch this fall
According to Kuo, the 6.5-inch iPhone X Plus will cost $1,000 like the current iPhone X and feature dual SIM capabilities.
The 6.1-inch iPhone will be the cheapest at $700. To keep the price low, it will come with an aluminum frame and a single-lens camera.
The other two expensive OLED models will come with stainless steel frames and dual-lens cameras.
Retaining premium features and design elements
We expect bumped up internals on all three iPhones. They will feature improved Face ID, Apple A12 processors, faster LTE, and other under-the-hood improvements. Design-wise, all three iPhones will feature an edge-to-edge infinity display with almost non-existent bezels and a notch, similar to iPhone X.
Love Tech news?
Stay updated with the latest happenings.
Notify Me
Innovation?
iPhone X Plus schematics suggest triple lens camera setup
Further, iPhone X Plus is said to feature a triple lens rear camera setup, according to the schematics, and this might be the only USP of the larger iPhone X which will cost upwards of $1000.
However, can buyers settle for just an old 'S' upgrade Apple followed for years or will the world's richest company innovate like Vivo and OPPO?
Apple may also offer iPhones with dual-SIM support
In what will be unprecedented development, Apple is expected to offer dual-SIM card support on its upcoming iPhones. Earlier, reputed analyst Ming-Chi Kuo revealed that the 6.1-inch iPhone 9 will support dual SIM while Bloomberg reported that the 6.5-inch iPhone X will get dual-SIM slots.
Expert analysis
Kuo's predictions for upcoming iPhone sales
The analyst predicts that the 6.1-inch iPhone will account for 55% of new iPhone sales.
He said while the general market will be drawn towards the cheaper $700 LCD model, early on, there will be demand for the premium 5.8-inch and 6.5-inch OLED models, fuelled by early adopters at launch.
Up to 70 million new iPhones will be sold in Q4 2018, he predicted.