New iPhones may have same charging cable as Android phones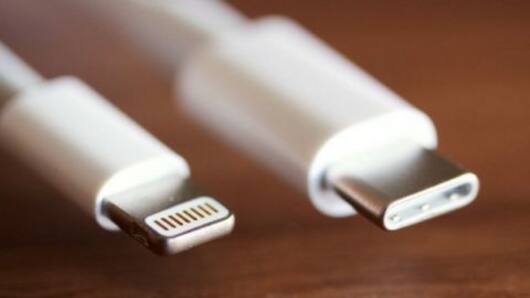 For years, Apple has forged its own path. And unique charging ports on its devices is one such example.
Back in the day, we had a 30-pin connector which, in 2012, was replaced by the incumbent Lightning port.
And now, Apple could finally favor the USB standard for its upcoming iOS devices, according to a leak which shows a purported Apple USB Type-C adapter.
In context
Upcoming iPhones may come with USB Type-C port
A major shift
What does the leak suggest?
The leaked photos show a prototype of an alleged Apple USB Type-C charger.
The labeling says that the charger will give an output of 18W - meaning it will offer much faster charging compared to current 5W adapters.
Moreover, reports suggest this charger will come bundled with the 2018 iPhones and possibly iPads too, meaning customers won't have to buy additional accessories for fast-charging.
Possible reasons
Why Apple is switching to USB Type-C?
For one, USB Type-C ports support faster data transfer, fast charging and are also reversible, much like Apple's Lightning port.
Moreover, USB Type-C can also offer audio output, meaning Apple can simply offer USB Type-C headphones much like it currently offers Lightning headphones.
Apple has also opted for USB Type-C ports on its latest MacBooks which again makes its iOS devices and MacBooks compatible.
Love Tech news?
Stay updated with the latest happenings.
Notify Me
Details
Current iPhone models also support Type-C fast charging
The 2017 iPhones i.e iPhone 8, 8 Plus and iPhone X support Type-C fast charging but via additional accessories which do not come bundled with the phones.
With current USB Type-C fast charging, an iPhone can charge 50% battery in about 30 minutes.
However, with these accessories, this 18W charger should be compatible with the 2017 iPhones and charge them at a faster rate.