#SmartphonesFaceoff: Jio Phone 2 v/s Nokia 8110 (4G)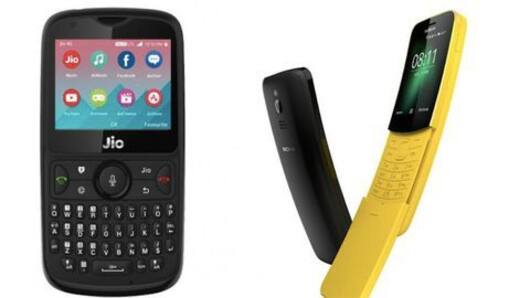 When we talk about mobile technology, especially phones, we tend to skew towards smartphones. And rarely do we consider the low-budget feature phones that are used by millions, at least in India.
Hence, today in this face-off, we compare the recently launched Jio Phone 2 with Nokia 8110 (4G) which would launch in India soon.
Here are the finer details.
In context
The best feature phone money can buy
Key parameter
Price and Availability: The deciding factor
The Jio Phone 2 comes at Rs. 2,999 (in Black color variant only) and will be available for purchase starting August 15.
However, the contender, Nokia 8110 (4G) is yet to arrive in India but HMD Global may introduce the phone soon, considering India's massive feature phone market.
The Nokia phone is priced at EUR 79 (about Rs. 6,300) in Europe. Hence, Jio Phone looks like an obvious choice.
Design & Display
At a glance
The latest Jio Phone 2, comes with a QWERTY keypad, 2.4-inch horizontal screen and an overall design that takes one back to the Blackberry days.
On the other hand, Nokia's banana-shaped feature phone gets a T9 keypad, a 2.4-inch vertical screen and retains the lost charm of slider phones.
Hence, in terms of utilitarian design, Jio Phone 2 scores a point.
Love Tech news?
Stay updated with the latest happenings.
Notify Me
Camera
For the shutterbugs and selfie lovers
Given we are looking at low-budget feature phones, both the Jio and Nokia phones offer pretty basic cameras.
On the back, both the Jio Phone 2 and Nokia 8110 (4G) have a 2MP rear sensor.
However, the Jio Phone 2 gets a VGA front camera while the Nokia 8110 lacks a front shooter.
Easy pick, Jio Phone 2 for simply offering a front camera.
Internals
All the important stuff
The Nokia 8110 (4G) is powered by a low-end Snapdragon 205 processor and the Jio Phone 2 is likely to have a similar processor, but the details are currently not known.
Notably, both the phones have the same internals and also run the same software i.e. 512MB RAM, 4GB internal storage (expandable via microSD card) and KaiOS.
It really is a tie here.
Battery & Connectivity
Staying connected
Under the hood, the Jio Phone 2 packs a 2,000mAh battery while the Nokia 8110 4G gets a smaller 1,500mAh battery.
Moreover, both phones get similar connectivity options and support dual-SIM connectivity (Micro+Nano).
Notably, unlike Nokia 8110 (4G), Jio Phone 2 comes with NFC which can be leveraged for pairing phones and mobile-based payments.
Once again, Jio Phone 2 has an upper hand.
Our result
How things stack up!
Unsurprisingly, till the time Nokia 8110 (4G) arrives in India, Jio Phone 2 will enjoy the King's throne.
However, if and when the Nokia phone launches, its price will be a key factor.
Until then, the Jio Phone 2 with its functional design, front camera, bigger battery and attractive price point, is hard to beat.
Our winner is Jio Phone 2.