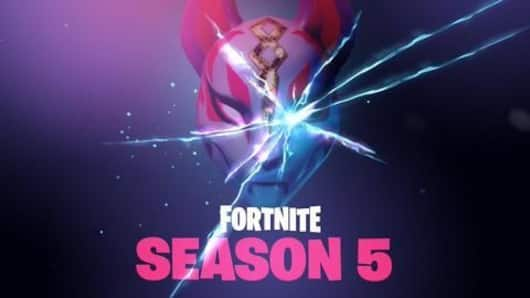 Fortnite Season 5: Five exciting features on Battle Royale
Fortnite Battle Royale is the most successful gaming mode brought forth by Epic Games.
The fifth season, which is already underway, started on July 12 and will end on September 25.
The new season themed "When Worlds Collide" has a host of new features that players can get excited about.
Here's a look at the 5 most exciting features that Epic Games has added.
Season Pass and what it means for other gamers
Season 5 divides challenges into two categories: Free and Battle Passes. Three of the seven weekly challenges will be available to all players; the rest to Battle Pass owners. However, the weekly-reward system requires players to complete four challenges, so Free Pass players are out-of-luck.
Loads to explore, it's a whole new map
Every new season of Fortnite brings the biggest map changes, and this season is no exception.
The game has added a whole new desert-themed biome.
The addition of two new locations, Lazy Links and Paradise Palms, will provide exploration opportunities.
A few other "places of interest" have also been added. These might either hint at Season 6's theme or how Season 5 will end.
Love Tech news?
Stay updated with the latest happenings.
Yes, notify me
No more running around, hot wheels in the game
The All Terrain Kart or ATK is what the gamers have been waiting for.
It will allow squads to ride into battle or explore the countryside. The roof of the vehicle is fixed with a Bounce Pad which will allow squads to scale opponent fortifications.
The ATK will unlock new challenges in the Road Trip event and be handy in outrunning storms.
Go Fortnite!
The situation gets sticky, just teleport to safety
The Rifts feature had the players all excited for Season 5.
Advertised as a wild ride of adventure, they act as teleportation systems. They are fabrics in space and time that get players into a giant rift in the sky.
This allows them to glide to safety from a hairy battle, get close to an unaware player, and even run away from a storm.
Firepower: Guns and glory
Weapons received a major change in Season 5. Shotguns indicate how many pellets hit the target, allowing players to judge the accuracy and the heavy shotgun fires 10 pellets instead of 5.
The aim-assist for the hunting rifle has been reduced to the same as other snipers and the Suppressed-SMG deals the same damage as other SMGs.
That levels the playing field a lot.
The eye of the tornado will blow you away
The Storm circle pattern for the game has been changed for circles 7, 8, and 9.
If the game lasts that long, the storm will no longer simply shrink like it used to but move in random directions. This increases unpredictability and prevents huge base building.
So campers, you're out of luck. Furthermore, the storm will deal damage to those outside the circle.
It's more than a game, it's a cultural phenomenon
Fortnite has attracted more than 125 million players in less than a year and generates monthly revenues in hundreds of millions of dollars. Parents are paying tutors nearly $35 to tutor their kids in Battle Royale. It's more of a cultural phenomenon than a game.