Now, you can post 3D photos on Facebook: Here's how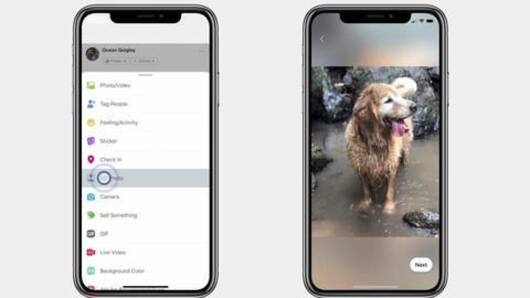 Facebook is rolling out a new feature, one that lets you post 3D photos on the platform.
The feature uses Facebook's AI to stitch different layers and make a typical 2D shot three-dimensional when they're posted on the News Feed.
It brings scenes to life by adding depth and movement into the shot and is available starting today.
Here are the details.
In context
Now, Facebook lets you post photos in 3D
Working
3D Photos: Not truly 3D, but still good
While the ability to post 3D photos sounds interesting, the feature doesn't make your shots truly three-dimensional.
You won't be able to rotate a subject to see it from all angles, but there will be enough depth to scroll, pan, tilt, and see it from a few different perspectives.
It is akin to moving your head to see a person standing behind a window from different angles.
Major prerequisite: A dual camera phone
The 3D photos feature will work only on Portrait mode photos taken by dual camera devices. Meaning, if you don't have a phone with two camera lenses, Facebook's AI won't be able to stitch movable shots.
Love Tech news?
Stay updated with the latest happenings.
Notify Me
User guide
How to use the feature?
In order to use the feature, you'll have to update the Facebook app and follow the regular process to post content on the News Feed.
Just navigate to the 'What's on your mind' section and select '3D Photos' to pick the portrait mode shot and post it with a 3D effect, maybe even a caption.
AI explained
Role of Facebook's AI in creating 3D shots
Just as you'd use the feature and select the Portrait mode photo, Facebook's AI will analyze it to stitch the photograph with layers that it infers to be there, if your perspective had been different.
As both the cameras work at the same time in portrait mode, the AI leverages parallax differences (subject's position as seen from each camera) to create the 3D photo.
Facebook's tips to get best 3D shots
As per Facebook, users should keep their subject 3-4 feet away to get the best of 3D Photos. Also, it recommends taking photos with multiple layers of depth and with subjects having colors contrasting to their background.