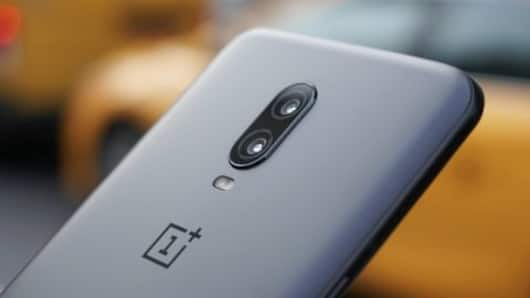 Leaked image reveals OnePlus's upcoming smartphone, could be 5G variant
Reputed tipster Ishan Agarwal, who had earlier leaked the OnePlus 6T McLaren Edition, has again leaked the company's upcoming flagship.
As per the leak, the smartphone could either be the OnePlus 7 or OnePlus's 5G-ready handset. However, we'd vouch for the latter considering it is set to launch in early 2019.
Here's everything to know about OnePlus's 5G smartphone.
Here's what the image reveals about OnePlus's 5G phone
The image is possibly from an internal company meeting, given OnePlus CEO Pete Lau is seen attending the presentation.
In the slide, we clearly see the rear side of the flagship in red while a silver variant is seen in the hands of Lau.
The back panel of the phone reveals a circular camera module, confirming a depart from OnePlus 6T's vertically-stacked dual-camera setup.
Tipster suggests the phone is still in "prototype/designing stage"
EXCLUSIVE! Here's your first look at an upcoming OnePlus Device I don't know much about. This image shows the device in prototype/designing stage and it is not final but this is probably how the device may end up looking. That's Pete (CEO of OP) in the img and the device itself. pic.twitter.com/Yau9EsgSDy

— Ishan Agarwal (@IshanAgarwal24) December 19, 2018
Love Tech news?
Stay updated with the latest happenings.
Yes, notify me
The image also leads to some uncertainties
While the image reveals a redesigned camera module, we cannot confirm if OnePlus has increased the number of sensors from two on the OnePlus 6T.
Moreover, it is hard to confirm if the camera is flush with the rear glass or not.
Lastly, we also see a portion of the screen but it is unclear if OnePlus has adopted the in-trend "punch hole" design.
Meanwhile, here's everything we know about OnePlus's first 5G smartphone
Earlier, OnePlus had announced that its upcoming 5G-ready smartphone would be an entirely new series and not the OnePlus 7.
The company has already partnered with EE network to launch the first 5G-ready flagship in Europe by early 2019.
Moreover, the upcoming smartphone will ship with the latest Qualcomm Snapdragon 855 chipset - something Lau confirmed recently.
The 5G Race
The 5G race is getting intense.
Xiaomi has already teased its 5G-compatible Mi Mix 3 flagship while Samsung is gearing to launch its Galaxy S10 5G variant by early 2019.
Further, Huawei, OPPO and Vivo are also expected to launch their 5G-ready smartphones by next year.
Interestingly, we may see a 5G-compatible iPhone sometime in 2020 as it's relying on Intel for 5G modems.
When will OnePlus launch its 5G smartphone?
Asked 2018-12-20 20:25:14 by Aditya Banerjee
Answered by NewsBytes
OnePlus has announced that it'll launch its 5G-ready smartphone in Europe by early 2019. However, we don't have a specific timeline as of now.
What will be the specifications of OnePlus's 5G smartphone?
Asked 2018-12-20 20:25:14 by Vishal Rodrigues
Answered by NewsBytes
OnePlus CEO Pete Lau has confirmed that its 5G-ready flagship will be powered by the Qualcomm Snapdragon 855 chipset. Moreover, we can expect to see upto 10GB RAM and possibly 30W Wrap Speed given these specifications were seen on the OnePlus 6T McLaren Edition.
Will OnePlus launch its 5G smartphone in India?
Asked 2018-12-20 20:25:14 by Angel Shah
Answered by NewsBytes
India is still readying its 5G infrastructure. However, we can expect 5G connectivity in the country by late 2019 or early 2020, at least in the metros. That said, we expect OnePlus to launch the OnePlus 7 in India, sometime in the second half of 2019.
How much will OnePlus's 5G smartphone cost?
Asked 2018-12-20 20:25:14 by Paridhi Yadav
Answered by NewsBytes
OnePlus's 5G-ready smartphone should cost around $100-$200 more than OnePlus 6T. This hike considering the fact that Snapdragon 855 requires X50 modem to facilitate 5G network. As a standalone chipset, Snapdragon 855 comes with X24 modem which is not 5G-compatible.