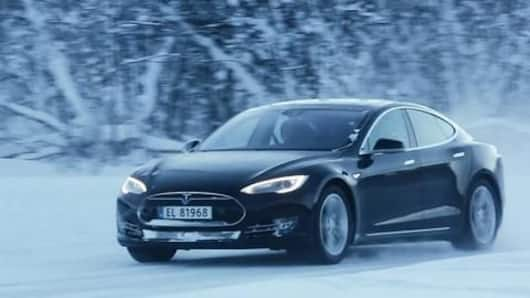 Now, you can warm up your Tesla remotely: Here's how
Tesla wants to keep you comfortable in chilling winter days.
The electric car-maker has pushed an update of its mobile app, giving users the capability to warm up their cars remotely, Electrek reported.
This way, you'll be able to heat up your Tesla just enough before going out on a quick drive with your friends and family.
Here's more on the new feature.
Tesla app version 3.8.0 brings remote heater controls
Tesla cars have long had heaters, but now, the electric car-maker has ensured that their customers can activate them well before going on a drive.
Essentially, the new version 3.8.0 of Tesla mobile app will let you select and enable heaters for the seats you want.
The app shows a virtual model of the car's interior, which you can use to activate the heater.
Plus, you can even adjust heating levels
With the app-based virtual model, you can not just activate or deactivate the seat heaters, but can also adjust their levels according to your need.
This would ensure that your Tesla doesn't feel like a real-word sauna when you step into it.
Also, you can even activate/deactivate the steering wheel's heater, like the seats, if your vehicle features it.
Love Tech news?
Stay updated with the latest happenings.
Yes, notify Me
Vehicle software update necessary for this feature
While this feature is incredibly useful, it is important to note that you won't be able to use it unless you've updated your Tesla's software to version 2018.48.12. This paired with version 3.8.0 of the mobile will give you remote heating capabilities.
What else comes with this update?
Along with remote heating, this update also brings the capability to place a service request directly from within the app.
The appointment interface given by Tesla lets you pick the date, time, location of the service center of your choice as well as describe the problem you're facing.
But, as of now, most service centers appear pre-booked days in advance.
Are Teslas fully-electric cars?
Asked 2018-12-24 11:58:21 by Ayaan Chatterjee
Answered by NewsBytes
Yes. Tesla currently manufactures all-electric vehicles and infinitely scalable clean energy generation and storage products. The vehicles also carry a certain level of autonomy.
What is the prices of cheapest Tesla model?
Asked 2018-12-24 11:58:21 by Ananya Kapur
Answered by NewsBytes
The cheapest car from Tesla is Model 3. It has a base price of $34,200, but further customizations might add to the cost of the vehicle.
What are the color options for Tesla Model 3?
Asked 2018-12-24 11:58:21 by Navya Rangarajan
Answered by NewsBytes
The Tesla Model 3 comes in as many as five color choices, including the standard Black as well as Silver, Blue, White, and Red. Apart from the standard one, all color variants come at an added cost.
What is the price of Tesla Roadster?
Asked 2018-12-24 11:58:21 by Divya Gupta
Answered by NewsBytes
Tesla Roadster, the quickest claimed car in the world, comes at a heft price of $200,000, with a required deposit of $50,000. There's also a limited edition Founders Series of the car, which costs a whopping $250,000.