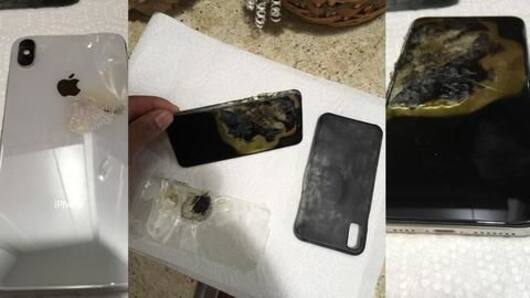 New iPhone Xs Max explodes in Ohio, owner reports
After the case of iPhone X, a three-week-old iPhone Xs Max is reported to have been exploded.
The device, owned by a man in Ohio, started heating in his back pocket and caught fire unexpectedly.
Apple issued a new unit in response, but the victim, Josh Hillard, is contemplating legal action for the physical and psychological stress he suffered from the incident.
Here's more.
iPhone Xs Max heats, emits smoke, then explodes
Detailing the incident to iDrop News, Hillard claimed his iPhone Xs Max started heating in the back pocket of his trousers.
Within moments, it started emitting green and yellow smoke, forcing him to run out and check what's burning.
By the time he removed pants and checked, the phone had already caught fire and had to be extinguished with the help of a co-worker.
Complaint from the iPhone Xs Max owner
"I was left with a hole in my pants, fire extinguisher on my pants/shoes, and some pain/irritation in my buttocks region where the pocket of my pants was located," Hillard said, noting he also inhaled a lot of smoke due to the whole incident.
Love Tech news?
Stay updated with the latest happenings.
Yes, notify Me
After multiple complaints, Apple replaced the unit
After the explosion, Hillard contacted Apple and after multiple attempts to explain the issue (and sending pictures), he was able to get a replacement unit from the Cupertino giant.
However, despite getting a new unit, the affected user is contemplating legal action for the stress he suffered due to the whole incident, especially while getting the problem resolved from Apple's executives.
Still, this looks like a one off-case
It is unclear how the phone started heating and exploded into flames, but it appears more like a one-off case than a Galaxy Note 7-like fiasco.
Apple has not commented on the matter, but buyers of the phone won't have to worry about such problems.
This is the only case of explosion related to the new iPhones.
How this phone exploded?
Asked 2018-12-30 14:17:56 by Aaryan Bhatnagar
Answered by NewsBytes
The cause of the explosion appears to be excessive heating, but how this happened still remains unknown.
What is the price of iPhone Xs Max?
Asked 2018-12-30 14:17:56 by Cheshta Sen
Answered by NewsBytes
The iPhone Xs Max starts at Rs. 98,990 for the 64GB variant and goes up to Rs. 1,34,900 for the 512GB variant. It is available both online as well as offline.
Are there any other cases of iPhone Xs Max explosion?
Asked 2018-12-30 14:17:56 by Aaradhya Yadav
Answered by NewsBytes
No. So far, this is the only one case relating to the explosion of an iPhone Xs Max.
Is iPhone Xs Max a better camera phone than Pixe 3 XL?
Asked 2018-12-30 14:17:56 by Hemant Kadam
Answered by NewsBytes
Both are flagships, but in terms of camera performance, Pixel 3 XL makes a better package thanks to features like Night Sight, Photobooth, and Top shot.