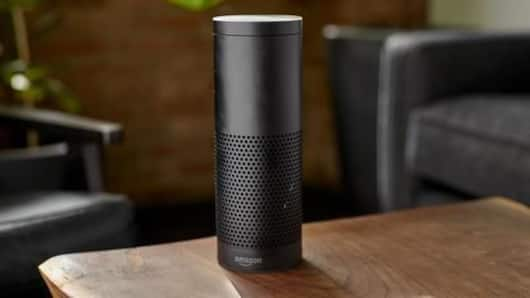 CES 2019: Alexa interrupts Qualcomm's executive, says that's not true
If CES 2019 is anything to go by, we can be sure that Alexa and Google Assistant will power the future of smart homes.
As they are penetrating our lives, they also bring in a certain level of weirdness with them.
To recall, just recently Alexa told a user to 'kill foster parents', and now, it has interrupted an executive's keynote.
Here's what happened.
Qualcomm's CES keynote interrupted by Alexa
On Monday, Qualcomm demoed the third-generation of Snapdragon Automotive Cockpit platform.
Designed to upgrade in-car experiences, the platform is basically a large OLED screen, which will serve passengers with Amazon services, including Alexa, while they are on the road.
However, when Nakul Duggal, an executive from the chip-maker, was in the middle of explaining all this, Alexa randomly blurted out: 'No, that's not true'.
Love Tech news?
Stay updated with the latest happenings.
Yes, notify Me
What was Alexa responding to?
Alexa's weird interruption came when Duggal was explaining the capability of the assistant to recommend nearby hotels and restaurants on the road, BuzzFeed News reported.
Naturally, the response was met with amusement, but it is not clear what the assistant was actually responding to.
Soon after this, the executive joked by saying he would not ask Alexa any questions and continued with the keynote.
Is this a sign of AI having its own mind?
The weirdness of this response, combined with Alexa's previous remarks, can raise alarms of AI revolution, but it is nothing like that, at least not as of now.
Seemingly, a representative for the demo forgot to mute the assistant and it picked up a random phrase and responded to it.
So far, neither Amazon nor Qualcomm has commented on what it meant.
Is Alexa better than Google Assistant?
Asked 2019-01-08 11:53:05 by Trisha Gupta
Answered by NewsBytes
In terms of handling queries, Google Assistant is better and more conversational than Alexa.
How many Alexa products launched at CES 2019?
Asked 2019-01-08 11:53:05 by Divya Sarin
Answered by NewsBytes
This year, several Alexa-powered products have been unveiled at the CES, including Intelligent Toilet, smart lights, cooking appliaces, and what not
Can Alexa order food?
Asked 2019-01-08 11:53:05 by Pari Mukopadhyay
Answered by NewsBytes
Yes, it can. Just link your account with Zomato skill and say "Alexa, order food from Zomato". It will use the default address from your account, ask cuisine preferences, and list out open restaurants and available meals to finish placing your order.
What is the cost of Alexa-powered smart speakers in India?
Asked 2019-01-08 11:53:05 by Shreyas Chatterjee
Answered by NewsBytes
The latest generation of Amazon's Alexa speakers includes Echo Dot and Echo Plus. The former is priced at Rs. 4,500 in India, while the latter comes at Rs. 15,000.