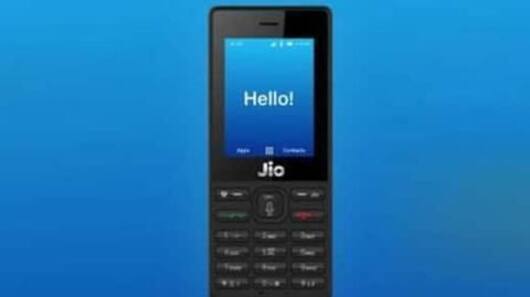 New 'Kumbh JioPhone' for pilgrims: Here's all about it
JioPhone in getting a special avatar, one designed specifically for pilgrims attending the Ardh Kumbh festival in Prayagraj.
Kumbh, which is the largest human congregation in the world, sees over 130 million people take a holy dip in Ganga over 55 days.
And now, the Mukesh Ambani-owned company plans to enhance its spiritual experience with a 'Kumbh-specific JioPhone'.
Here's all about it.
Kumbh JioPhone will have features to assist pilgrims
The 'Kumbh JioPhone' will be the same JioPhone model, but enhanced with capabilities to help pilgrims attending Kumbh.
It will offer several features, including a detailed set of updates related to the holy fest.
People would be able to use the device to get information on Kumbh and learn about buses/trains for the gathering, accommodation options, maps and routes, and emergency helpline numbers.
JioPhone will also offer bath schedules
Along with information on the holy fest, the 'Kumbh JioPhone' would also offer pre-published bath and religious day schedules, helping the pilgrims plan their visit accordingly.
Love Tech news?
Stay updated with the latest happenings.
Yes, notify me
And, it will help people stick together
Kumbh is one such gathering where people often lose their way around or get separated from their family.
But, the new JioPhone would be able to tackle this problem with Family Location - a feature for tracking the exact location of family members.
It will also have a feature called Lost & Found for keeping people together, but it's unclear how it would work.
Added devotional content, news updates, and games
Along with location-based capabilities, the 'Kumbh JioPhone' would also offer devotional content with its Kumbh Darshan (for video telecast of events) and Kumbh Radio (for hymns) features.
Plus, you'll also get regular news updates on everything happening in and around Kumbh and a specific suite of games and daily Kumbh quizzes to keep yourself entertained.
Existing and new JioPhone users will get these features
All Kumbh-specific capabilities introduced by Jio will be available above JioPhone's core offerings and at the same price.
Also, along with new buyers, even existing JioPhone users would be able to access these features by using JioStore on their device.
Kumbh is slated to commence from January 15, 2019, and continue till March 4, 2019.
How to get these features for Kumbh?
Asked 2019-01-08 14:24:12 by Vivaan Rao
Answered by NewsBytes
To get the new Kumbh-specific features, you'll have to visit the JioStore on your JioPhone.
Can I call Jio for these features?
Asked 2019-01-08 14:24:12 by Ajay Banerjee
Answered by NewsBytes
Reliance Retail has created a special helpline number '1991' to answer queries about the Kumbh JioPhone. Call this number and they will walk you through the process.
What are the key features and specifications of JioPhone?
Asked 2019-01-08 14:24:12 by Cheshta Mukopadhyay
Answered by NewsBytes
The JioPhone features a 2.4-inch QVGA TFT display, 2MP rear camera, and a VGA front camera. The handset comes with a dual-core processor, 128MB RAM, 4GB internal storage (expandable upto 128GB). Further, JioPhone runs KaiOS, packs a 2,000mAh battery and supports 4G/3G/2G networks, VoLTE, VoWiFi, Wi-Fi, LTE Cat4 DL, Bluetooth, NFC, FM Radio, and GPS.
What all apps does JioPhone support?
Asked 2019-01-08 14:24:12 by Ridhi Khan
Answered by NewsBytes
JioPhone supports several popular social media and productivity apps including YouTube, Facebook, WhatsApp, Google Maps, and Google Assistant. Further, the phone comes preloaded with the Jio suite of apps that include JioSaavn, JioCinema, HelloJio, JioGames, JioTv, JioShare, JioVideocall, and JioXpress (for news). The official store on the JioPhone is JioStore which can be used to download other apps.