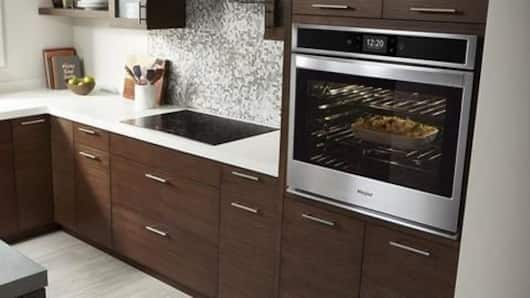 #CES2019: Whirlpool unveils AR-backed oven to help you with cooking
This year at CES, leading kitchen appliance maker Whirlpool has unveiled a 'smart' avatar of ovens.
The company has leveraged augmented reality to develop a 'Connected Hub Wall Oven' - an appliance that helps with the entire cooking process by displaying instructions on its 'door'.
It even packs an internal camera that shows how the meal looks when it's being cooked.
Here's how.
Connected Hub Wall Oven and its 27-inch display
At first glance, Connected Hub Wall Oven looks very much similar to any other oven with a glass door.
However, if you'll see closely, this door is actually integrated with a 27-inch LCD touchscreen capable of displaying information and visualizations.
It can be used to pull up recipes and get step-by-step instructions, including information like settings to use, for cooking and baking.
Oven leverages AR to show visualizations
Once you've selected a recipe, the AR capabilities of the oven come into play, displaying visualizations on the transparent panel.
It displays how the meal you're preparing would look when it's ready as well as depictions of where different items should be placed, like on which rack.
This way, you won't have to worry about trying and seeing which rack works for which item.
Love Tech news?
Stay updated with the latest happenings.
Yes, notify Me
Plus, you can see how the meal actually looks
Along with AR-based depictions, you could also see how well the meal has been cooked in real time, thanks to a camera placed inside the oven.
The feature, which works with Whirlpool's Yummly app, will even let you zoom in on the image and make necessary setting changes.
It helps with the cooking process without letting out heat and affecting the bake.
When this oven will hit the markets?
As of now, Whirlpool is displaying this oven as a concept rather than a finished product.
This means there's no saying when it might go into production or hit the markets.
Also, as The Verge reports, Whirlpool would have to make some major improvements into the visualization department to make AR-based output more vibrant on the transparent display.