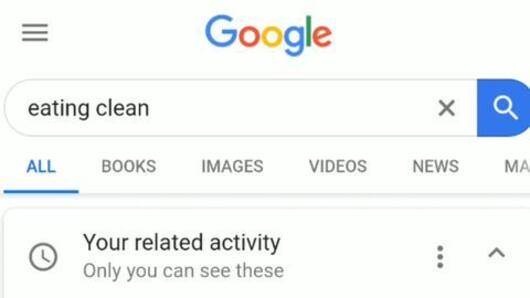 Now, Google's activity cards will help you explore topics
Often, you may encounter topics requiring heavy research.
From cooking recipes to gym workouts, these could be anything and may prompt you to look back at the article you read a few days ago.
This leads to the annoying problem of scouring history or bookmarks, which Google plans to solve by introducing activity cards in search results.
Here's how they work.
Activity cards to show past relevant searches
Starting yesterday, select people using Google search (on mobile) would see an additional 'activity' card while searching for a certain topic.
This card uses the search history associated with their Google account and displays a list of topics looked up in the past.
These will be related to the topic currently being searched, helping the user continue their exploration.
Seemingly, activity card will show up on select topics
Google announced this feature in a blog post and said activity cards will show up for long-running "topics and hobbies like cooking, interior design, fashion, skincare and beauty, fitness, photography and more".
Love Tech news?
Stay updated with the latest happenings.
Yes, notify Me
Also, you can save items from your activity cards
While providing access to past searches, activity cards will also give an option to pick links from the list and add them to a separate collection.
This collection will keep all your articles at one place and would be accessed by tapping the menu on the top left corner of the search page (on mobile web) or from the bottom of the Google app.
However, not everyone can use this feature
Activity cards can upgrade the experience of searching on Google, but as of now, they are only available in the US for mobile web and Google app users.
Google has not said when the feature might expand to other countries but considering how useful it could be, we expect to see a global roll-out pretty soon.
When will this feature come to India?
Asked 2019-01-11 00:22:08 by Ajay Gavde
Answered by NewsBytes
As of now, the feature is only active in the US and there's no word on India release.
Can we force this feature?
Asked 2019-01-11 00:22:08 by Parakram Bose
Answered by NewsBytes
No, this appears to be a server-side upgrade for Google search, which means there's no way to force this feature into the engine.
How to search with Google assistant?
Asked 2019-01-11 00:22:08 by Saanvi Balasubramanium
Answered by NewsBytes
Just say Ok Google and add the query you want to look up. Assistant will offer the results in a matter of seconds.
Is Google search better or Bing?
Asked 2019-01-11 00:22:08 by Diya Verma
Answered by NewsBytes
In our opinion, Google search makes a better search engine than Microsoft's Bing.