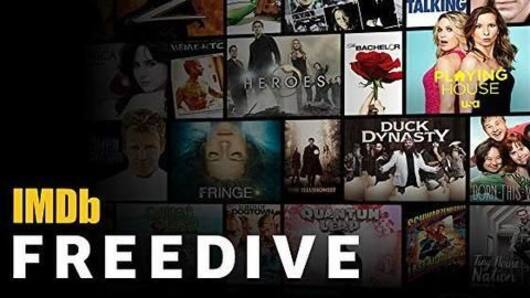 Freedive: Amazon launches free content streaming platform via IMDb
After offering subscription-based content with Prime Video for years, Amazon has decided to enter the booming 'free' space.
The company, according to recent reports, has launched a free streaming platform called Freedive.
It comes from the house of its famous subsidiary IMDb and offers a range of TV Shows, movies, and short-form originals for free.
Here's all about Freedive.
IMDb makes TV shows, movies more accessible
IMDb has long been a hub to explore top trending movies and TV shows and read about their cast and music.
But now, with Freedive, the platform is entering the free streaming arena, making its content more accessible on phones, laptops, and Amazon's Fire TV devices.
On laptops, Freedive is accessed via its website, but on Fire TV, it has a dedicated channel.
Which movies, shows are available on Freedive?
Freedive divides its content into categories like 'Hits of the '80s', 'Sci-Fi', 'Chills and Thrills' and 'Movies for the Whole Family.'
You could use any of these to explore several movies, including some very popular ones like Memento, Awakenings, Foxcatcher, Drive, Big Fish, and more.
In the TV show department, you can stream titles like Fringe, Heroes, The Bachelor and Without a Trace.
Love Tech news?
Stay updated with the latest happenings.
Yes, notify Me
However, you will see ads popping up
As Freedive comes without any subscription, its revenue model solely relies on advertising.
Meaning, you'll see ad breaks from time to time while streaming any movie or show on this platform.
These ads cannot be removed in any way and the service doesn't carry the option to switch to a paid, ad-free model.
Also, it's only available in the US
As of now, IMDb Freedive is available only for users in the US.
The company has expressed plans to upgrade its catalog and expand to other regions, but there's no information on when that might happen.
Either way, the move has definitely expanded Amazon's footprint in the content space, allowing it to take on both YouTube and Netflix.
When will Freedive launch in India?
Asked 2019-01-11 12:31:00 by Ananya Rodrigues
Answered by NewsBytes
As of now, there's no word on the India launch of IMDb Freedive.
Are there any more free content streaming services?
Asked 2019-01-11 12:31:00 by Ayaan Verma
Answered by NewsBytes
Just last month, YouTube started offering free ad-supported movies and, in our opinion, it is the best place for free content.
What is the price of Amazon Prime subscription?
Asked 2019-01-11 12:31:00 by Vibhore Saxena
Answered by NewsBytes
Prime Video subscription comes at Rs. 999 per year or Rs. 129 per month.
Is Amazon Prime better or Netflix?
Asked 2019-01-11 12:31:00 by Sanvi Patil
Answered by NewsBytes
Both are good in their own spheres, offering a bunch of originals, movies, and TV shows.