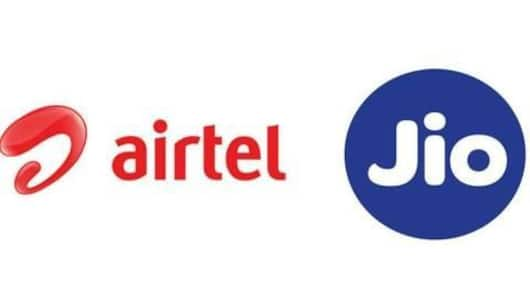 JioTV v/s Airtel TV: Which one offers a better deal?
Two years ago, Reliance Jio started 4G revolution in the Indian telecom sector.
The company offered high-speed internet at affordable rates, and along with that, it also launched JioTV - a way to watch live TV on the go.
The platform is used by millions of users and directly challenges Airtel TV by Bharti Airtel.
Let's see which one offers a better package.
First up, what are Live TV services?
For starters, Live TV services are web-based platforms that offer hundreds of English, Hindi, and regional channels.
They are available for free in most cases and can be accessed via smartphone apps (sometimes even websites), enabling users to watch any channel of their choice - be it movies, sports, or news - anytime and anywhere.
Both JioTV and Airtel TV are free
Currently, JioTV and Airtel TV are the biggest Live TV platforms in the Indian market (along with others like Vodafone Play and Ditto TV). They both are available for free for their respective postpaid/prepaid customers and can be accessed via Android and iOS apps.
Love Tech news?
Stay updated with the latest happenings.
Yes, notify Me
JioTV comes with a bigger pack of channels
Both JioTV and Airtel TV offer a massive pack of channels covering various genres and languages, including English, Hindi, Bengali, Bhojpuri, Malayalam.
But, when it comes to the exact channel count, JioTV wins with as many as 626 channels, including 115 for English alone.
Airtel TV, on the other hand, only offers 373 channels as of now.
JioTV even has more HD options
If you solely look at HD content, JioTV offers you 133 high-definition channels, which is more than the double of what Airtel TV currently offers (57). Still, they both carry options for live news and sports, be it football, cricket, et al.
What else do you get with TV channels?
With JioTV, you get a bunch of Jio exclusive channels like Jio Sports and Jio Events. But, apart from that and Live TV, there's nothing more to the platform.
However, if you go with Airtel TV, you'll not just get Live TV, but also a massive chunk of movies, TV Shows, and originals.
The platform features over 10,000 movies and 100 shows at present.
So, which one to choose?
In our opinion, Airtel TV makes a much better package than Jio TV.
It offers a wider range of TV channels, which means you won't be missing any major TV programs or live sports for sure.
Plus, it comes with a much better pack of added on-demand content, including some very popular TV shows like The Flash, Supergirl, and F.R.I.E.N.D.S.
Can other sim users use JioTV?
Asked 2019-01-12 18:59:50 by Vivaan Saxena
Answered by NewsBytes
No, you have to be a Jio customer to use the company's Live TV servies.
How to get Amazon Prime from Airtel?
Asked 2019-01-12 18:59:50 by Cheshta Chatterjee
Answered by NewsBytes
Airtel offers free premium content to all its customers, but those subscribed to postpaid plans above Rs. 499 will also get access to Amazon Prime for one year. See your Airtel TV for more details.
Is Vodafone Play as good as Airtel TV?
Asked 2019-01-12 18:59:50 by Ridhi Jindal
Answered by NewsBytes
Yes, even Vodafone Play offers a decent catalog of Live TV channels.
How to get Airtel TV?
Asked 2019-01-12 18:59:50 by Aaryan Jaiteley
Answered by NewsBytes
You can download the app by searching for Airtel TV on Android or Apple's App Store.