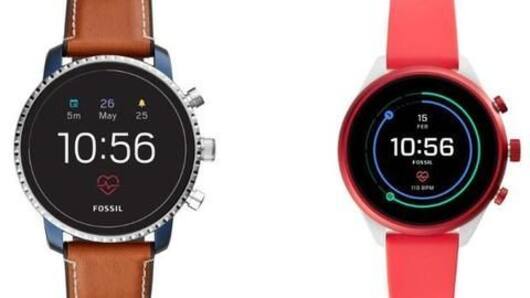 Google acquires secret smartwatch tech for $40 million: Details here
Building on its ambitions to deliver an ideal Apple Watch competitor, Google has decided to invest $40mn in a mysterious smartwatch technology.
The company will acquire the tech from watch-maker Fossil but has not revealed what it would do or when it might be introduced.
Notably, it is also roping in few members of Fossil's team as part of the same deal.
Here's more.
Mysterious tech will lead to 'new product innovation'
Though there's no word on what this technology is, Greg McKelvey, Fossil's executive VP, told Wearable that it would lead to "new product innovation that's not yet hit the market".
He added the company, which has been Google's hardware partner for years, got its hands on the tech from its $260 million acquisition of Misfit and has been evolving it since then.
Major improvements to come in Google's WearOS
With the latest move, Google will not just acquire the mysterious tech but also the R&D team working on it.
This means we could see its implementation to improve WearOS or to develop new designs.
"It's based on something out of our timeline...and we think it's a product that has features and benefits that aren't in the category today," McKelvey emphasized.
Love Tech news?
Stay updated with the latest happenings.
Yes, notify me
Tech seems to be focused on health and wellness
When Stacey Burr, president of product management for WearOS, confirmed the deal, she said, "Wearables, built for wellness, simplicity, personalization, and helpfulness, have the opportunity to improve lives by bringing users the information and insights they need quickly, at a glance."
The comment seems to suggest the tech in question might be focused on health, wellness in some way, but we can't be sure.
Also, there's no word on the release timeline
Neither Google nor Fossil has given a word on when we might see this tech in action.
However, the latter did confirm that we will see some Fossil-branded smartwatches based on the new tech.
McKelvey claimed first it will come on Fossil watches and then, "in true Google fashion, the technology will be expanded across the industry over time to benefit all."
Which is the cheapest smartwatch in India?
Asked 2019-01-18 15:24:07 by Shaurya Vyas
Answered by NewsBytes
In India, Xiaomi-backed Huami sells the most affordable smartwatch. It comes at a price of Rs. 5,500 and is available on Flipkart.
Will Google launch its own smart watch?
Asked 2019-01-18 15:24:07 by Aanya Sharma
Answered by NewsBytes
As of now, there's no word on any plan for a Google-branded smartwatch.
Is Google Assistant available in WearOS?
Asked 2019-01-18 15:24:07 by Rajesh Jain
Answered by NewsBytes
Yes, Google Assistant works via Google's WearOS and you can use it for a range of tasks, just like on a smartphone.
Is Fossil selling in smartwatch in India?
Asked 2019-01-18 15:24:07 by Aadhya Sengupta
Answered by NewsBytes
Yes, Fossil is selling hybrid smartwatches in the Indian market. They offer a mix of a smart and classic watch and are priced on the higher side (above Rs. 10,000).