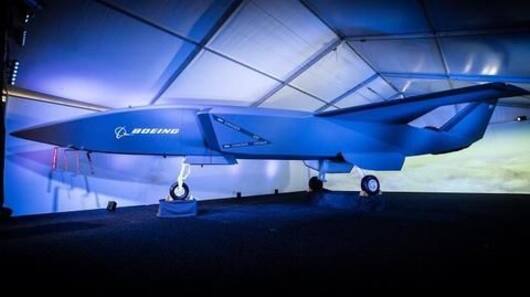 Soon, Boeing will launch self-flying fighter jet: Details here
Leading aeronautics giant and military contractor Boeing has unveiled a self-flying fighter jet.
The aircraft, named Boeing Airpower Teaming System, has been designed to complement air missions carried out by regular crewed planes.
It has been developed by the Australian unit of Boeing but will be available to customers across the globe, Reuters reported.
Here are the details.
Boeing's solution for combat missions
At the Australian International Airshow on February 27, Boeing unveiled a full-scale model of its self-flying jet.
The company claimed the 38-feet-long unmanned jet will be able to use artificial intelligence and an integrated set of sensors to fly independently or in tandem with other crewed aircraft.
As such, it could offer support by gathering intelligence or performing surveillance and reconnaissance missions during combat.
Unmanned jet could handle long spy missions
Boeing plans to fly the unmanned jet in 2020 and make it available to customers across the globe with necessary modifications.
However, typically, an unmanned system like this would come handy for long-standing missions.
Simply put, without a human inside, the plane might be able to withstand higher g-force, fly for longer hours or process more information than a regular crewed aircraft.
Love Tech news?
Stay updated with the latest happenings.
Yes, notify Me
Notably, transformational capability is a USP of the jet
Boeing has particularly touted the transformational capability of its autonomous jet, noting it can be integrated/reconfigured with different sensors and payloads to match country-specific mission/fleet requirements.
Though the exact cost and speed of the system remains unknown, Boeing has confirmed the platform comes at a fraction of the cost of a fighter jet and follows a standard take-off/landing mechanism using a commercially available engine.
Statement from Kristin Robertson, GM of Boeing Autonomous Systems
"The Boeing Airpower Teaming System will provide a disruptive advantage for allied forces' manned/unmanned missions. With its ability to reconfigure quickly and perform different types of missions in tandem with other aircraft, our newest addition to Boeing's portfolio will truly be a force multiplier."
This adds another avenue to autonomous systems
The move from Boeing adds another avenue to the evolution of autonomous systems.
From cars to fighters jets and naval vessels, every major transport solution is turning autonomous, thanks to power machine intelligence.
Just a few months back, Rolls-Royce demoed its fully-autonomous ship, which it says will self-navigate in the high seas by 2025.